Saab 35XS Draken Jet Fighter (Vantaa)
The Swedish Saab 35 Draken jet fighter (in Swedish, "kite") took to the air for the first time on October 25, 1955. It was a revolutionary aircraft with a double-swept triangular wing, known as the Bartini wing. His outstanding flying qualities for that time put Sweden on a par with the leading aviation powers. The specifications for the aircraft were issued by the Ministry of Defense back in 1949, in addition to the ability to intercept bombers, the new car had requirements for ease of maintenance and the possibility of use from public roads. An interesting fact: Soviet intelligence managed to get hold of the project of this aircraft even before its mass production began, but the Soviet aviation industry did not create anything similar. In total, more than 612 aircraft of this type were produced in two dozen modifications for various purposes, they served until 2005 in the Air Forces of Sweden, Austria, Denmark and Finland. Aircraft for Finland received the 35XS index, they were assembled under license at the Valmet plant from Swedish components, 12 aircraft were built. In the early seventies, Draken began to replace the MiG-21 fighters that Finland had purchased in the USSR, since it joined NATO with a great delay and was deprived of the opportunity to buy Western aircraft. In addition to aircraft, the Finns also bought Soviet missiles, so some SAAVs were converted for their suspension. Draken was the main type of fighter for almost 20 years, it was upgraded twice with a complete replacement of avionics, until it was replaced by the American F-18 Hornet. This aircraft was accepted into the Air Force in 1978 and was decommissioned in 1995, after which it made its last landing at Vantaa Airport and became a museum exhibit.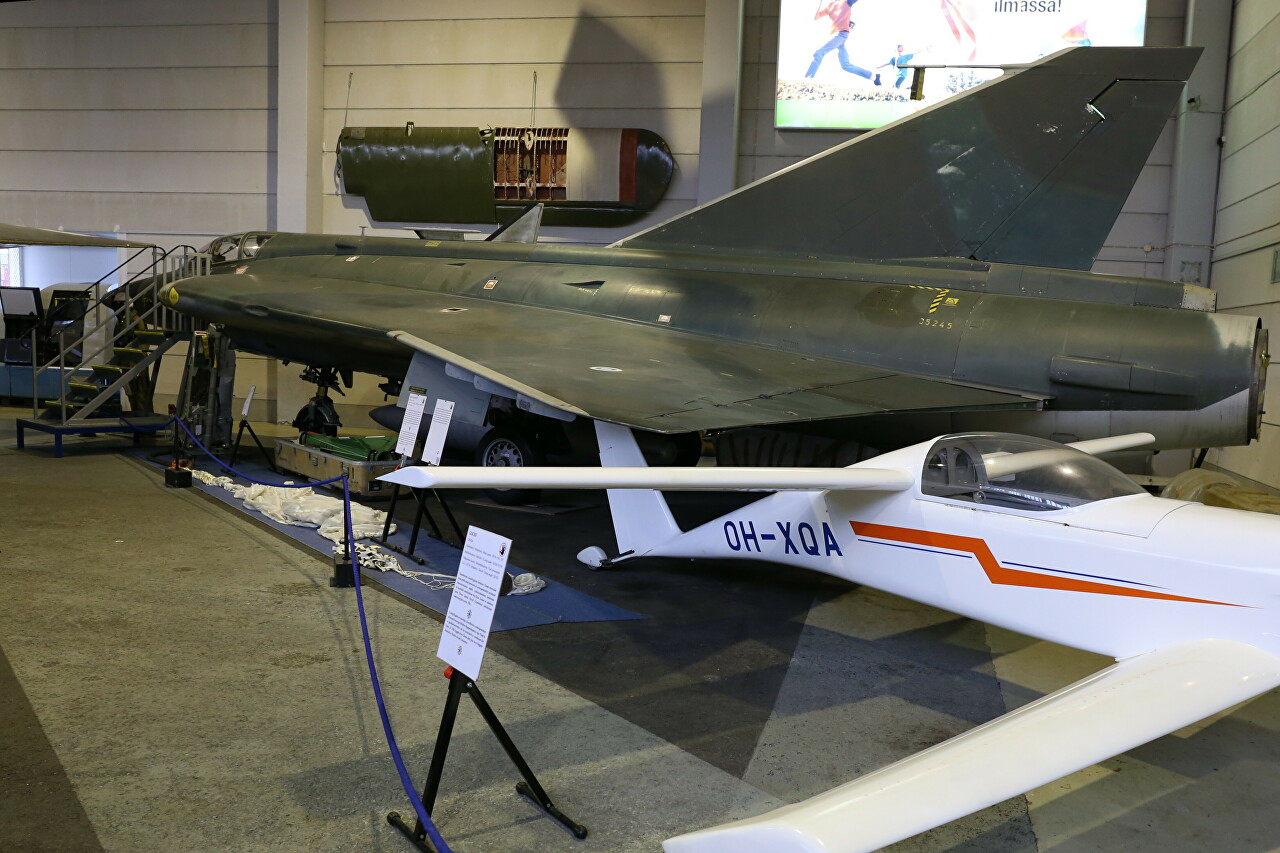 The pavilion has a flight simulator for visitors, which is a Saab 35 cockpit, where you can imagine yourself as a fighter pilot.