Sculptures of the Nidaros Cathedral. Western Facade
The construction of most of the largest medieval cathedrals took several centuries, and some of the work continues to this day. Nidaros Cathedral, founded in 1070 and since then has been expanded and rebuilt many times, is no exception. The most ornate western facade was actually rebuilt in the early 20th century.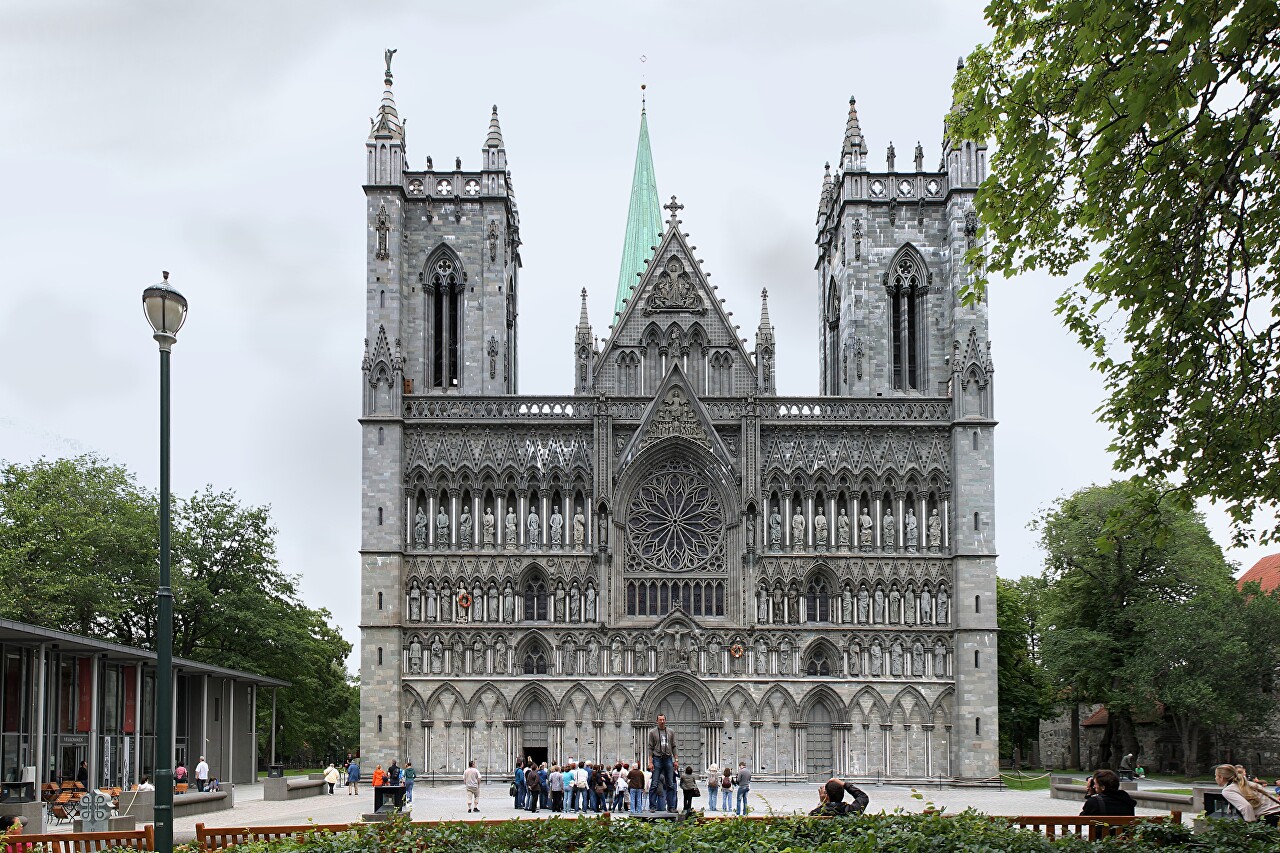 What the facade looked like initially, now it is impossible to establish, this part of the Cathedral is the worst preserved, in an engraving of the 1661 century, the facade has only the lower tier with three entrance doors, the second and two fragments of the third tier, decorated with sculptures. In the drawings of the first half of the 19th century, there are no sculptures, and the entrance portals are bricked up. No construction documentation for this part of the Cathedral has been preserved, except for a few drawings of repairs after the fire of 1328.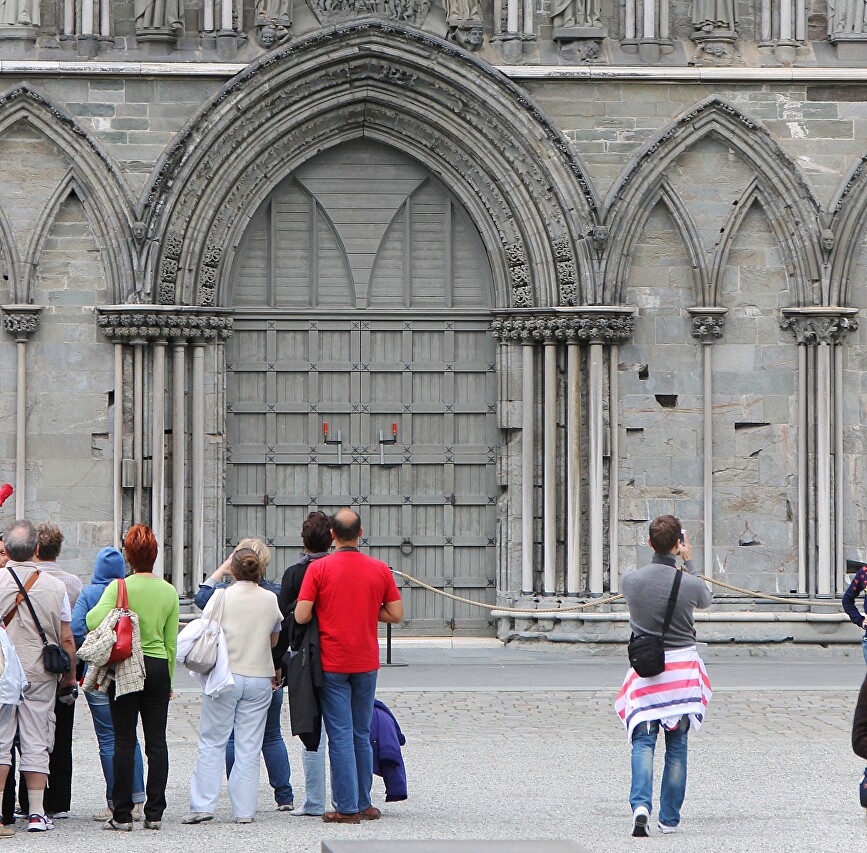 Scattered documents from the 16th century show that the facade had a large round rose window made of stone covered with gold, the construction of which was personally supervised by king Olaf Kyrre. The first project of restoration of the facade, created in 1903 by the architect Christian Christie, did not provide for rose windows, he proposed to limit himself to three tiers in a functional style. Nils Ryjord's design of 1907 for a Gothic-style facade with side towers and a large central window. In 1909, an architectural competition was announced, which won the project of Olaf Nordhagen, adopted in 1916, but the final form of the project took only in 1930.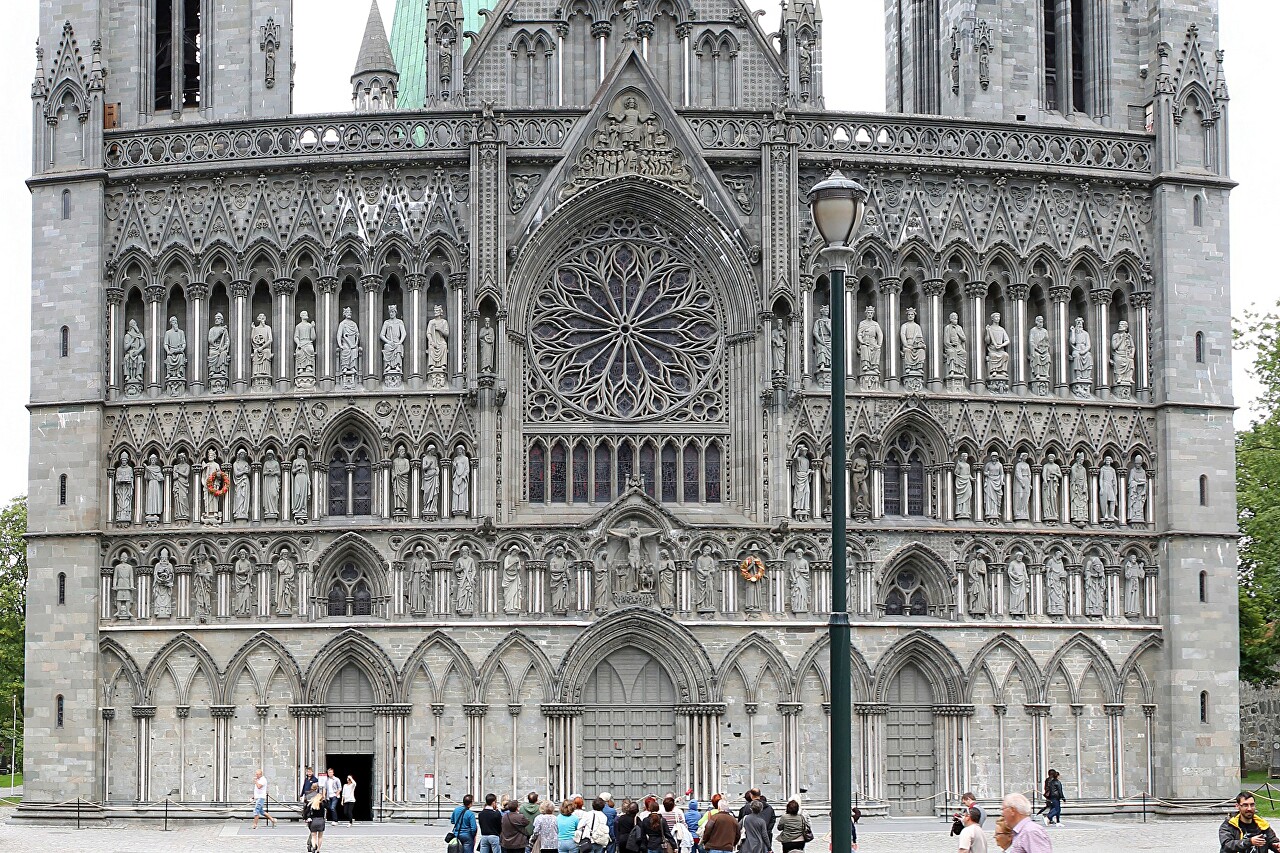 Now the facade is decorated with three tiers of sculptures, work on which began in 1929. How many of them were originally unknown, since only five have survived to this day, now they are stored in the Museum of the Archbishop's Palace. Sketches of the sculptures were developed by Professor Oluf Kolsrud based on drawings from the 17th century made by the priest Jacob Maschius, but mostly based on the sculptures of the Reims Cathedral. The sculptures depict both saints and characters from the Bible and Norwegian history. The facade was designed by famous Norwegian sculptors, including Gustav Vigeland, Wilhelm Rasmussen, Dyre Vaa, Stinius Fredriksen, Nic Schiøll, and many others.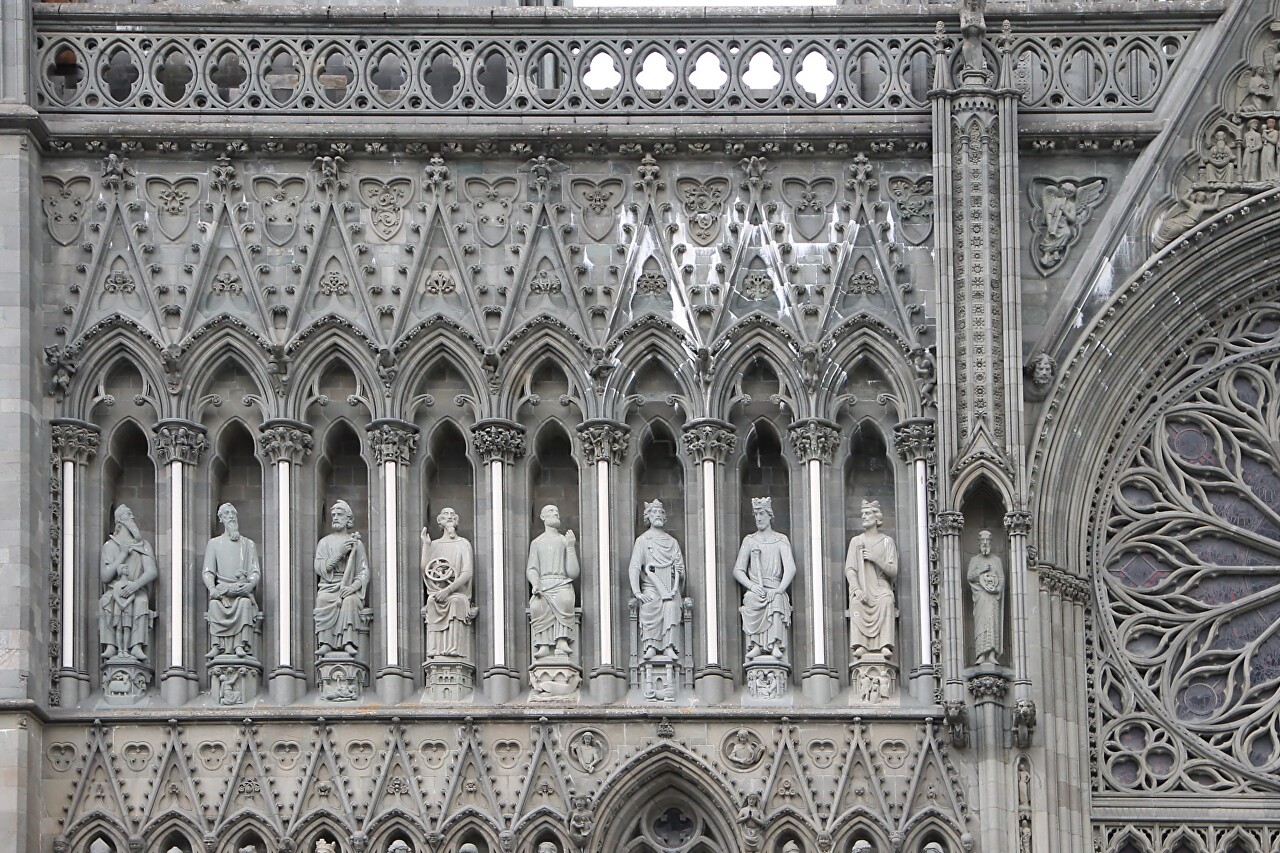 The image of Christ dominates the vertical axis of the facade. The sculpture above the Central portal depicts the Crucifixion with Mary and John, made by the sculptor Stinius Fredriksen.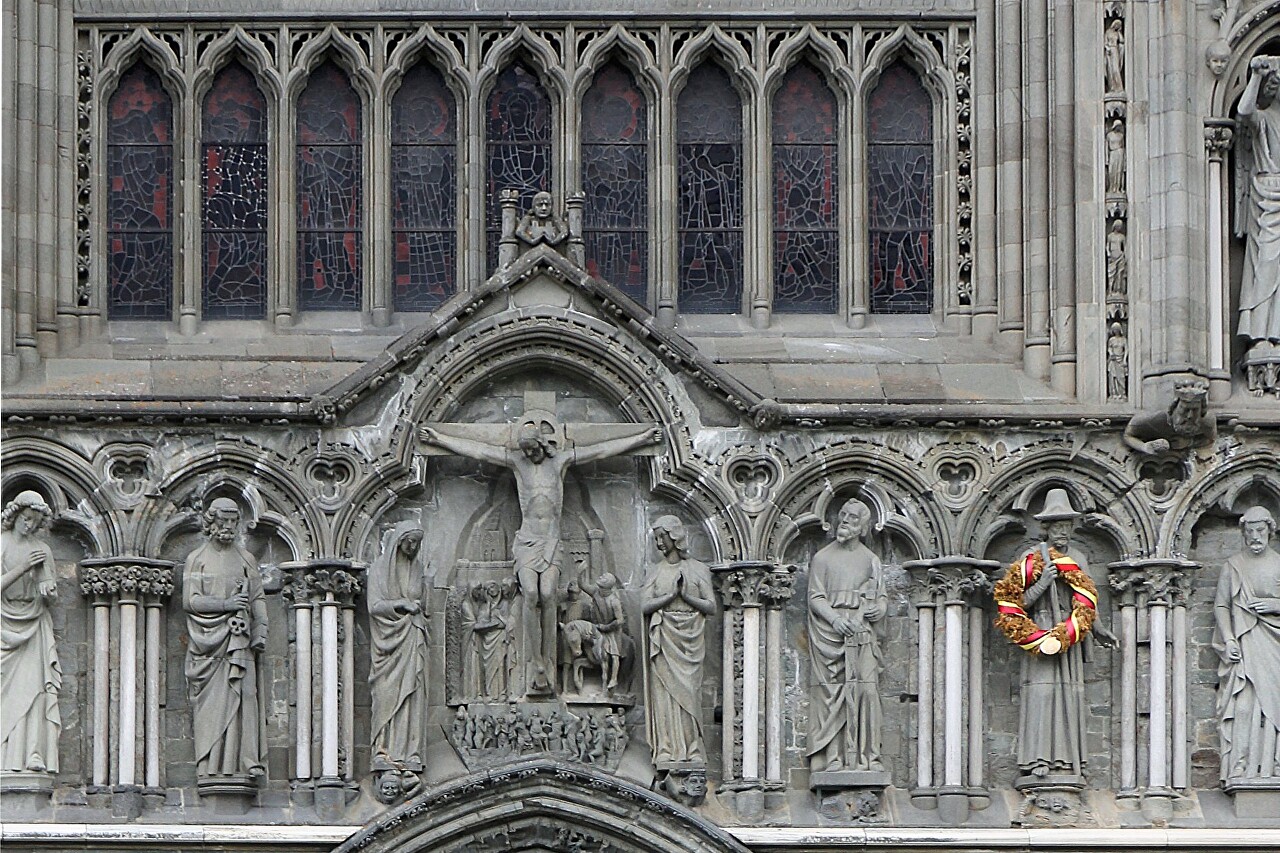 Above the rose window is a bas-relief "Doomsday" (Dommedag). The bas-relief was presented to the Cathedral by the Royal family in 1906 and made by the sculptor Tore Skjørestad based on a sketch by Wilhelm Rasmussen.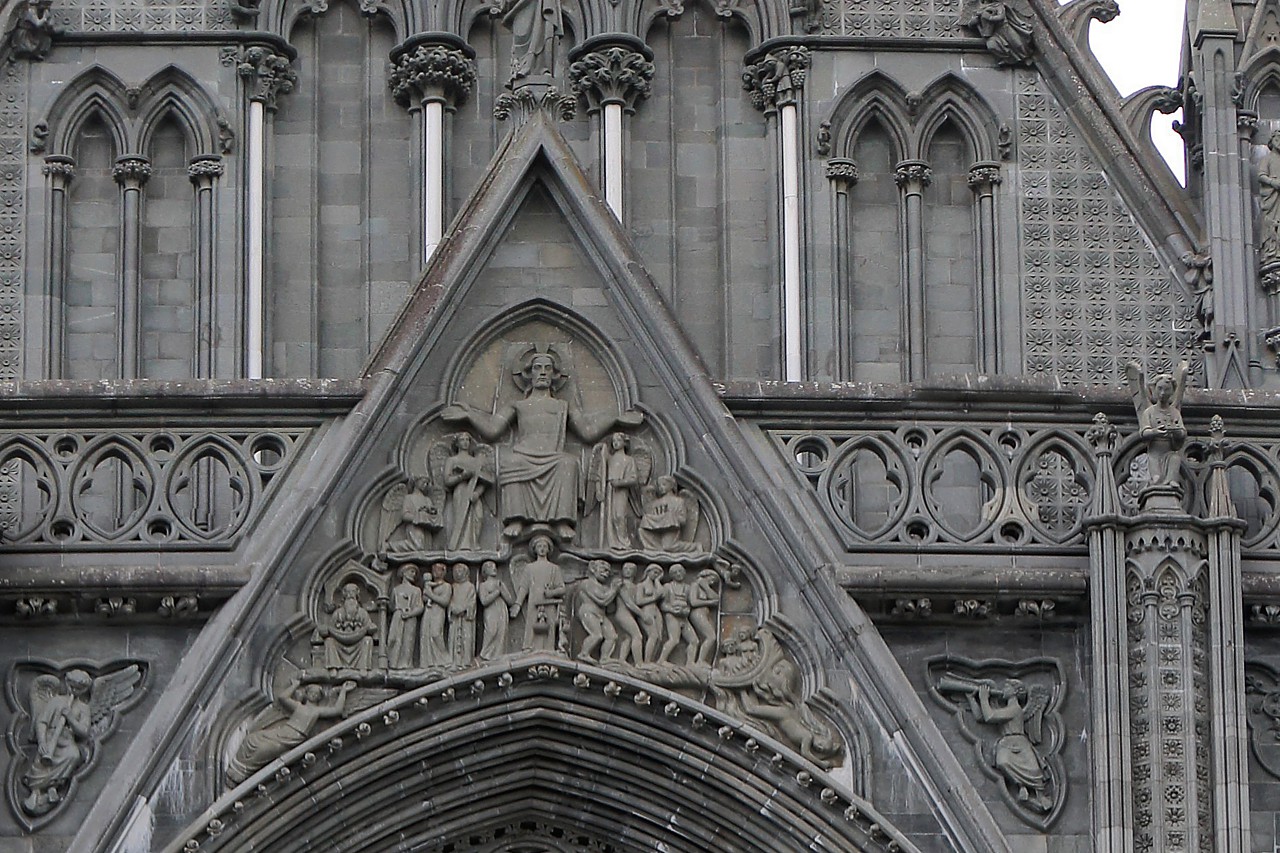 At the top of the pediment is a bas-relief of Christ triumphant (Kristus i triumf) by Kristofer Leirdalen.