Karhumäki Karhu 48B and DHC-2 Beaver, Vantaa
The Karhumäki Karhu 48B was built by a small company owned by the Finnish aviation pioneers Niilo and Valto Karhumäki, also known as Veljekset Karhumäki (The Karhumäki Brothers). The company was founded in 1924 and was engaged in aerial photography and pilot training for the Finnish Air Force. During the war, the company became part of the state-owned aircraft factory Valtion lentokonetehdas and its workshops started assembling combat aircraft. After the war, the company again became independent and in 1948 the brothers designed the Karhumäki Karhu 48B aircraft. The four-seat monoplane has a length of 7.85 meters and a wingspan of 11.54 meters, and a maximum take-off weight of 1.310 kg. The aircraft is equipped with a six-cylinder air-cooled engine with a capacity of 190 hp, which allows you to accelerate to 299km / h, and fly at a cruising speed of 186 km / h for a distance of up to 700 kilometers. The aircraft were built in a small series from 1950, including floats, used both in the airline owned by the brothers Karhumäki Airways, and in Kar-Air until 1963.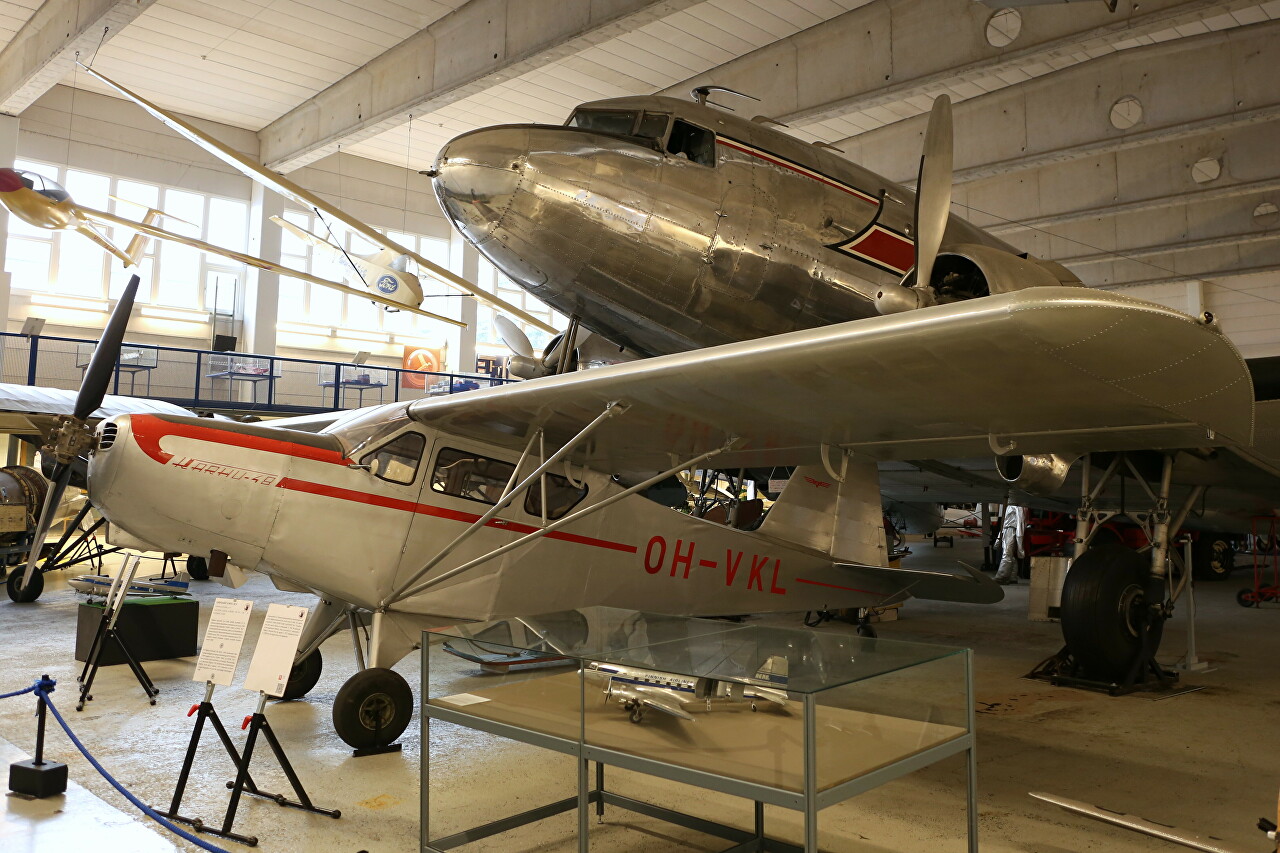 The De Havilland Canada DHC-2 Beaver was developed in the Canadian branch of a well-known British aircraft manufacturer and first flew on August 16, 1947. The six-seat airplane was specially designed for the conditions of Canada: it was adapted for flights through large uninhabited territories and landing on small unprepared sites. It was possible to install floats. The bird, named "Beaver" in honor of the native inhabitant of the Canadian forests, immediately became very popular and became widespread all over the world. The US Air Force showed great interest in the aircraft, acquiring a total of 968 vehicles. Up to 1967, 1,657 units were built. In Canada, these aircraft have long formed the backbone of the forest fire service. The "Beaver" presented in the museum was used by Finnish border guards for almost four decades, from 1951 to 1988.