Vigeland Bridge (Broen I Vigelandsanlegget)
The sculpture complex of Vigeland Park begins with a hundred-meter granite bridge, on which 58 bronze statues are located. Vigeland worked on the models of the sculptures from 1925 to 1933. In 1940, the sculptures were cast in bronze and installed on the bridge, after which the bridge was opened to the public, even before the works in the main part of the Park were completed.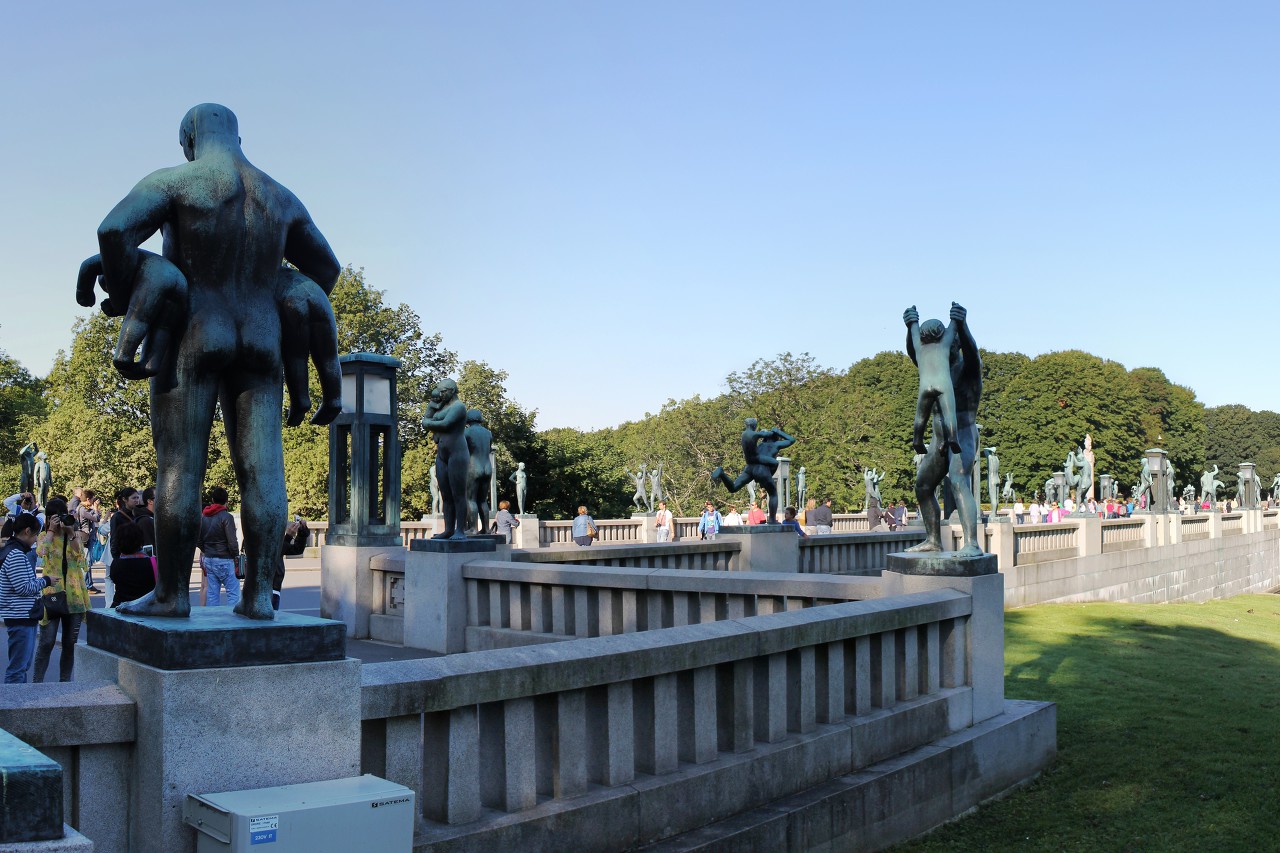 The first bridge over the Frognerdammen canal was built in 1914 and led to an exhibition dedicated to the centenary of the Norwegian Constitution. The modern bridge uses only its supports.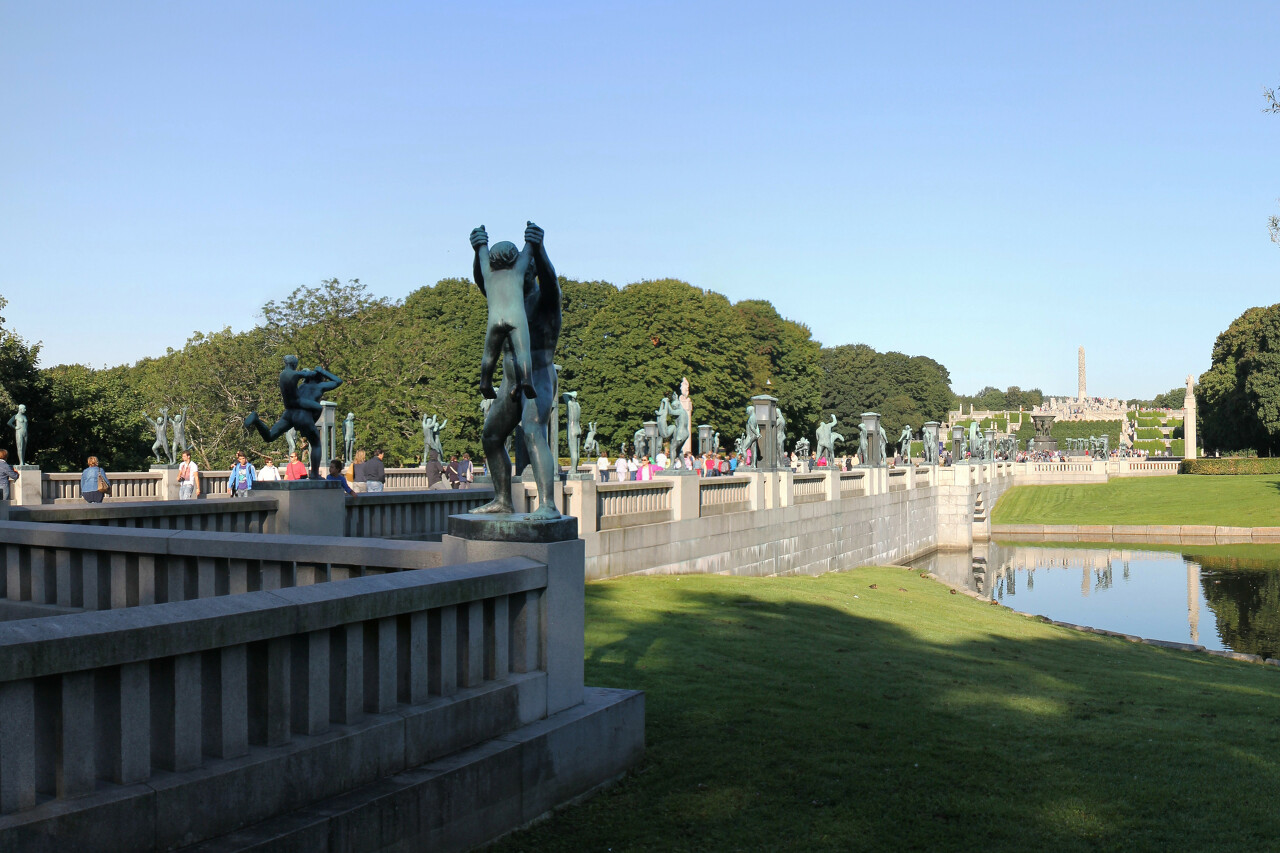 Reconstruction of the bridge was carried out from 1918 to 1930, during this period, four columns with sculptures depicting the struggle of a man with dragons were erected at its corners.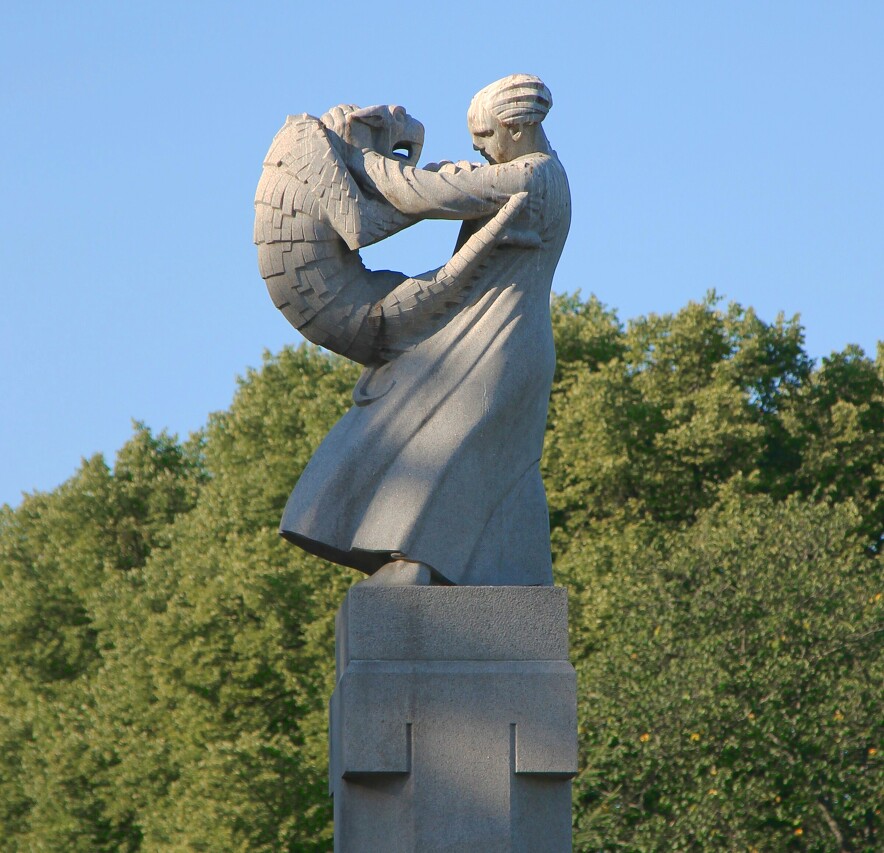 Medieval images of dragons appeared in the works of Vigeland during his work on the restoration of the Nidaros Cathedral in Trondheim in 1896-1802.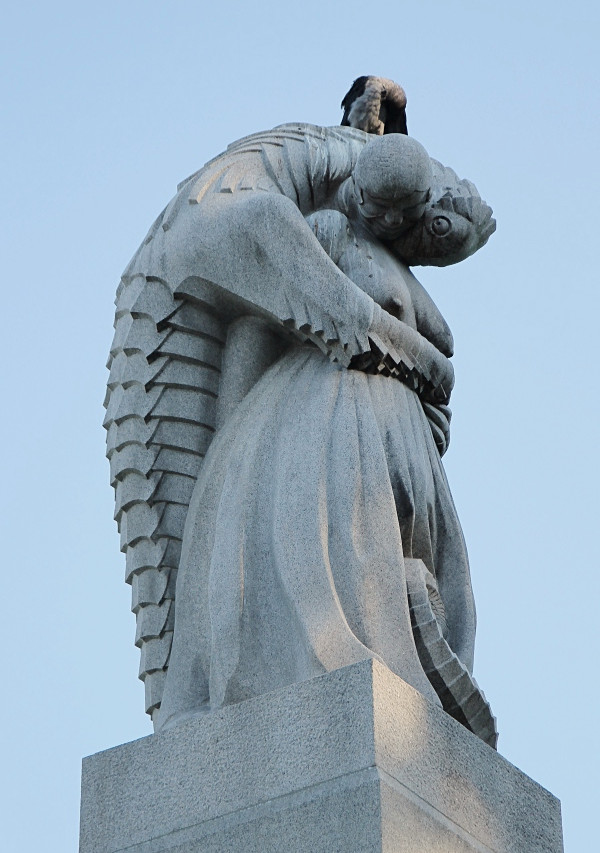 Traditionally, the dragon symbolizes the forces of evil, Vigeland sees in them the internal vices of a person, which he tries to fight throughout his life. Some interpret these sculptures as a confrontation between man and the forces of nature.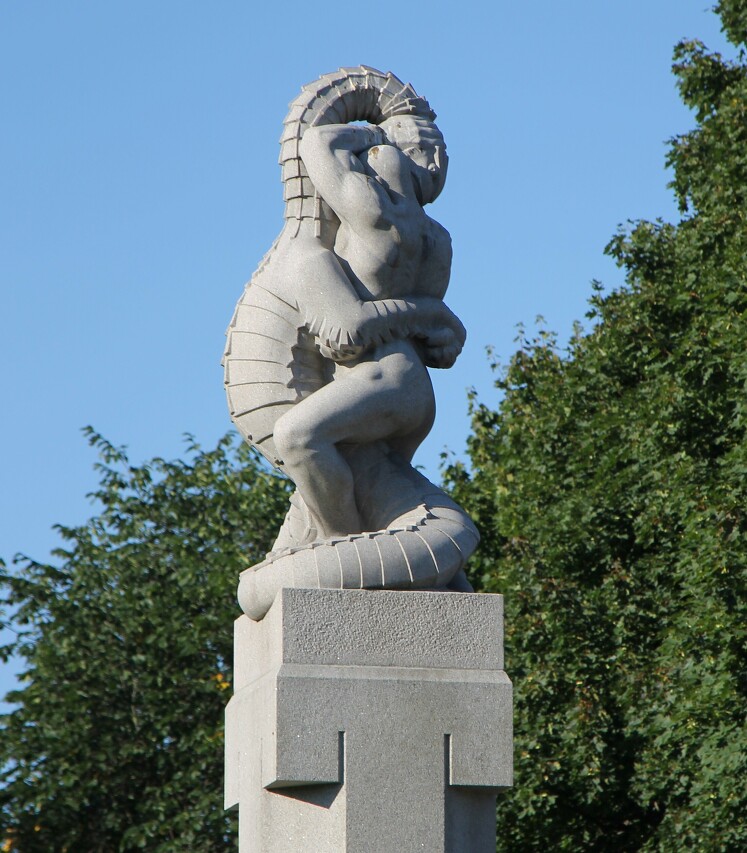 Most of the sculptures are dedicated to the theme of family, the relationship between parents and children.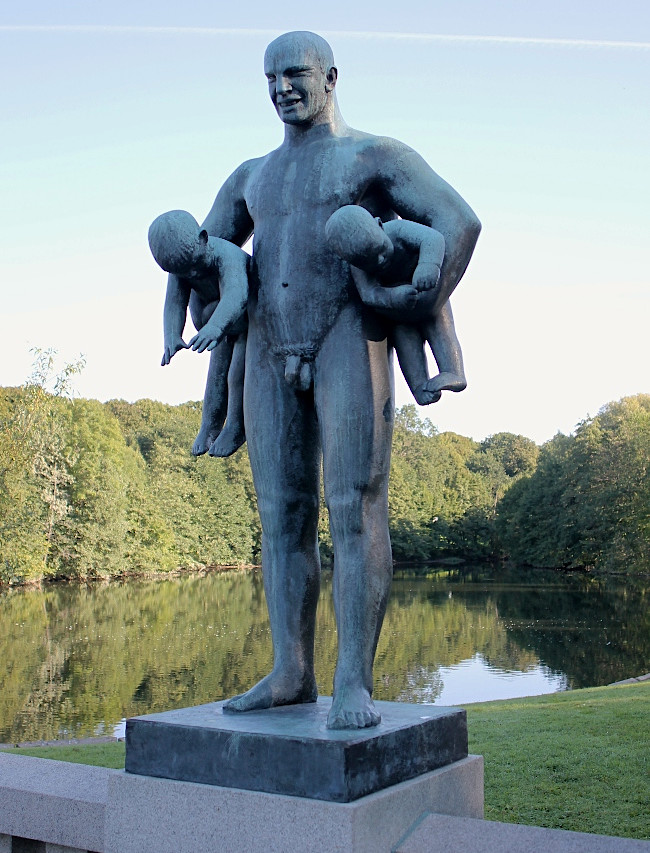 Daughter embraces mother.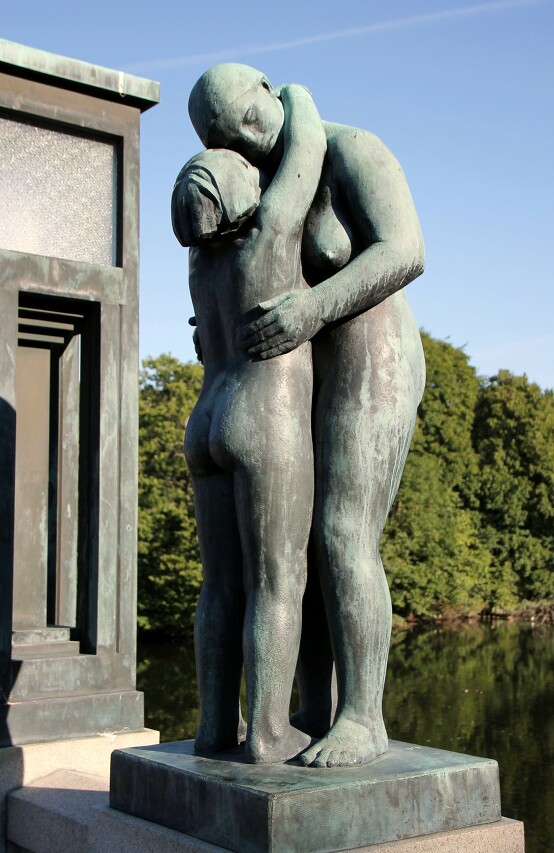 Father and baby.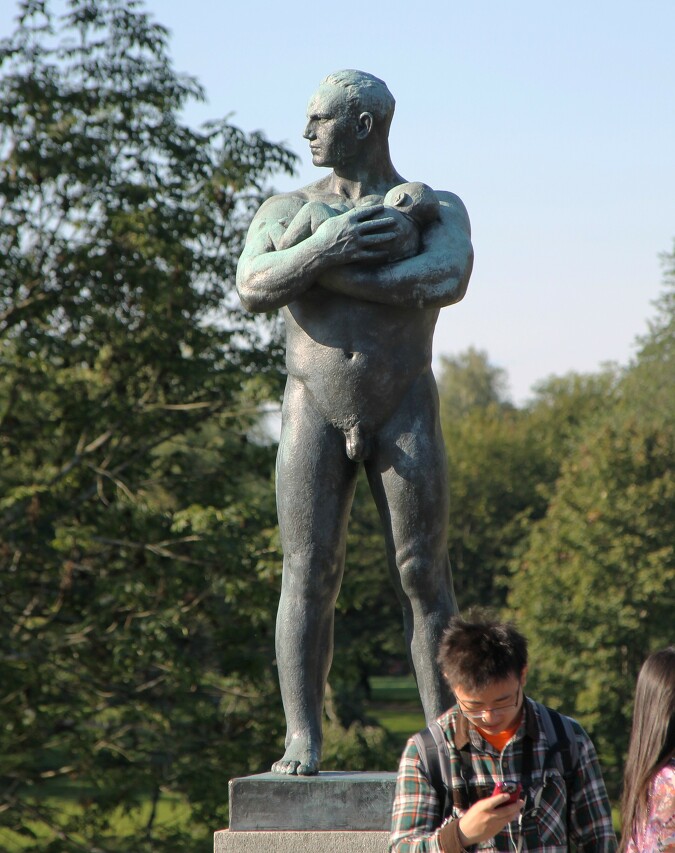 The man who was attacked by the babies. Probably the author wanted to show the difficulties and problems in raising children.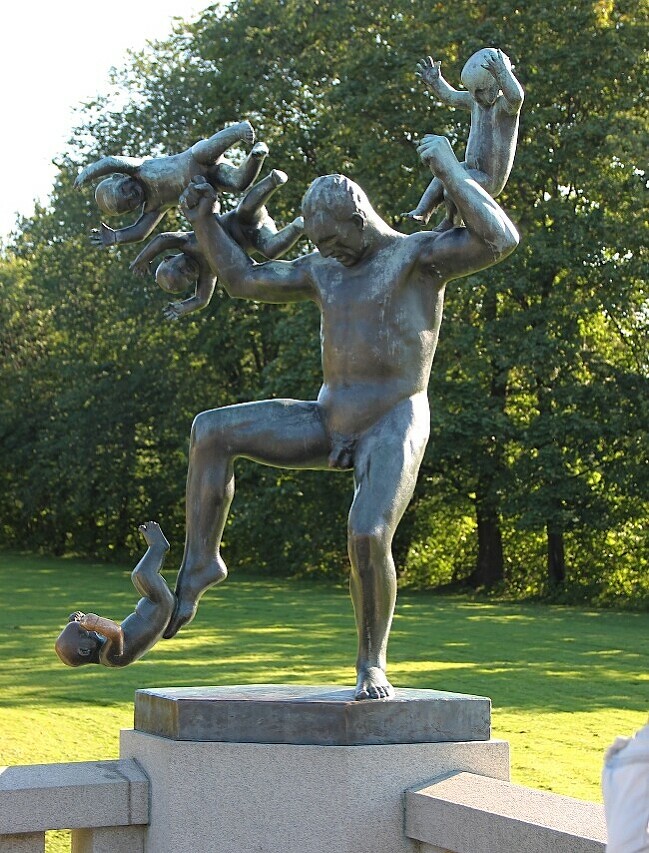 Several sculptures depict an old man with a child.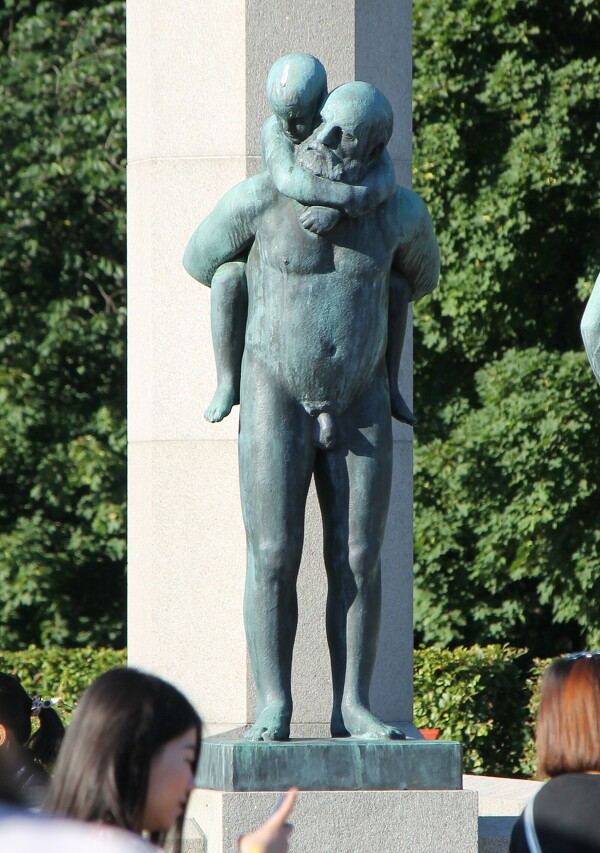 They talk about the endless repetition of the life cycle and the transfer of life experience to new generations.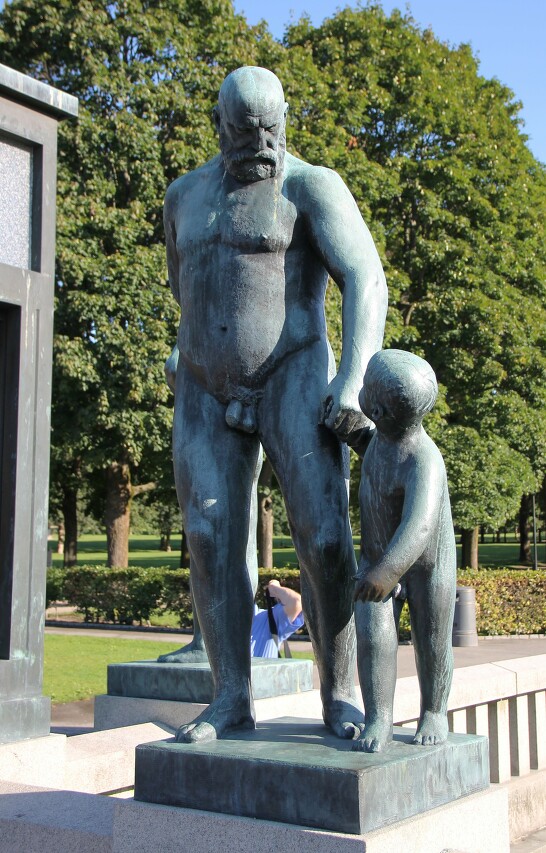 A separate thematic group dedicated to children's emotions.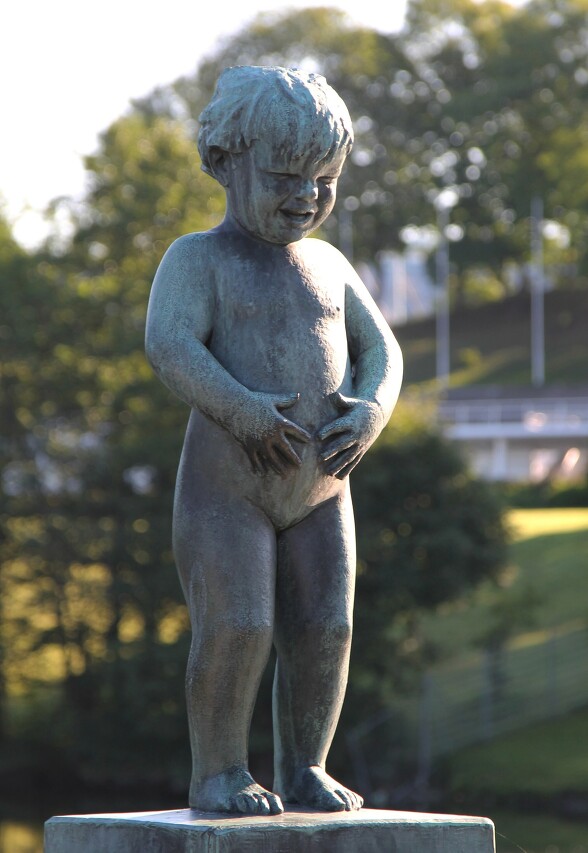 Vigeland's "The Angry Kid" (Sinnataggen) is remarkably realistic. The plaster model was created by the sculptor in 1924. The 83-centimeter-high bronze sculpture has become a symbol of the park, as well as an object of vandalism and kidnappings.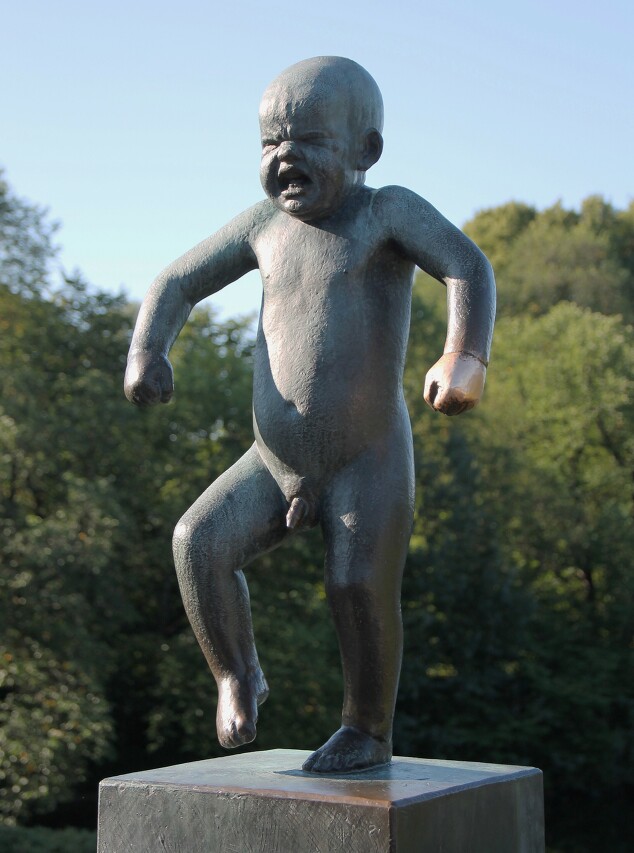 Some statues depict people in motion, such as these two running boys.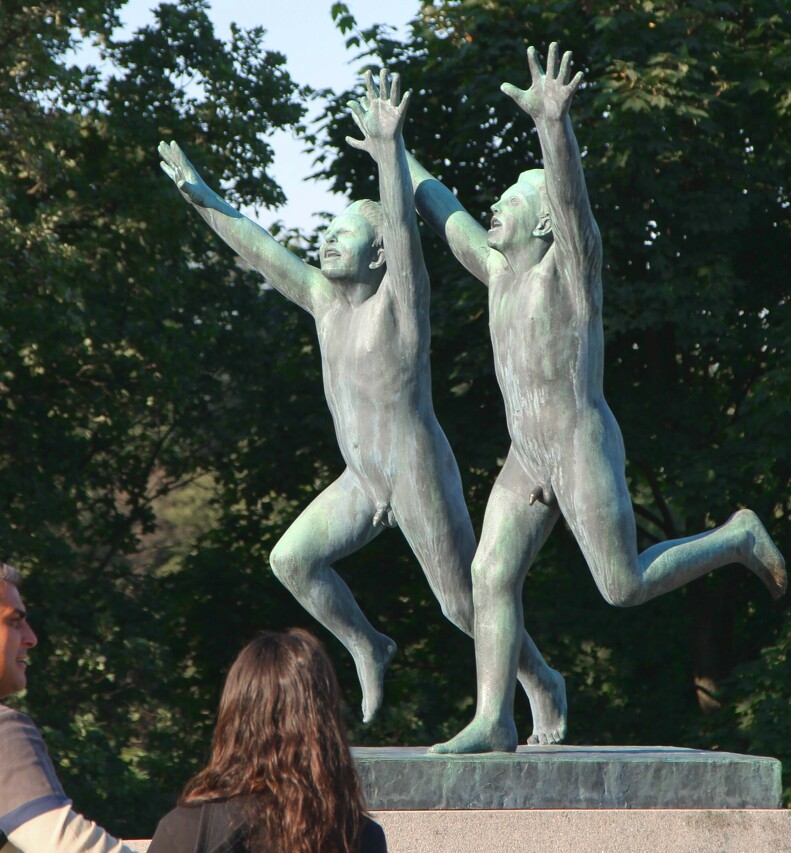 Dancing girl.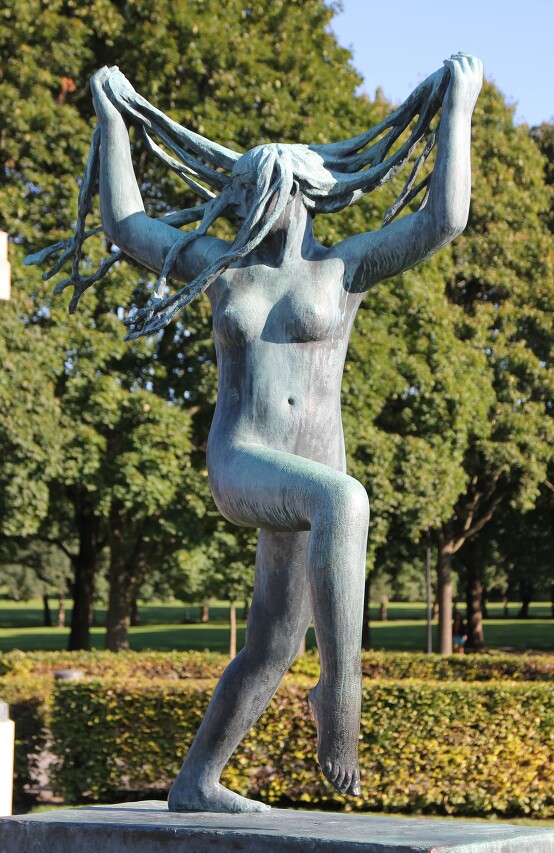 Other compositions show relationships between people, often with deep philosophical meaning. Here everything is clear: the old man brings up the young man.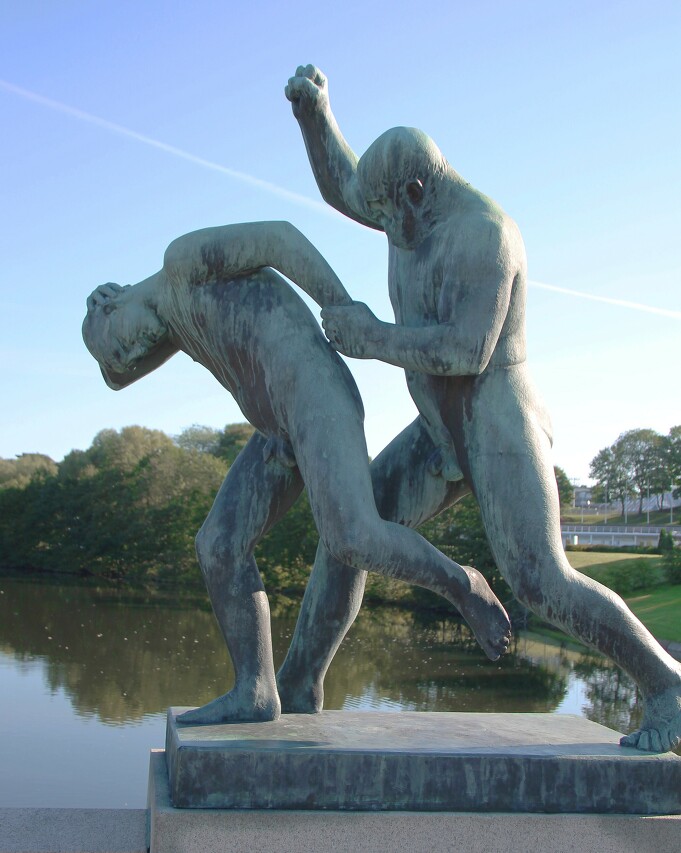 The man throws the woman over his head. It is difficult to understand what the sculptor meant by this.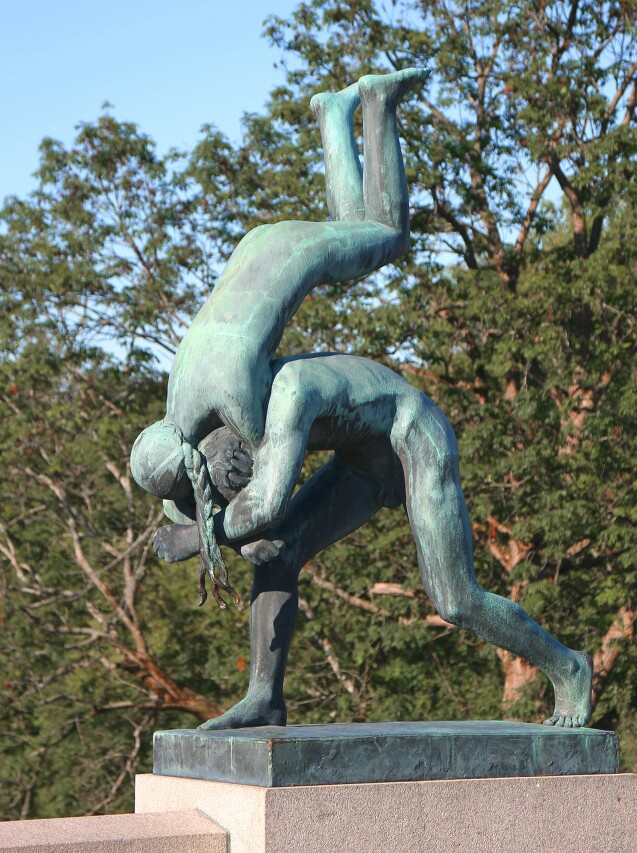 In this sculpture, you can see an attempt by a person to go beyond the usual circle. Or resistance to the wheel of fate.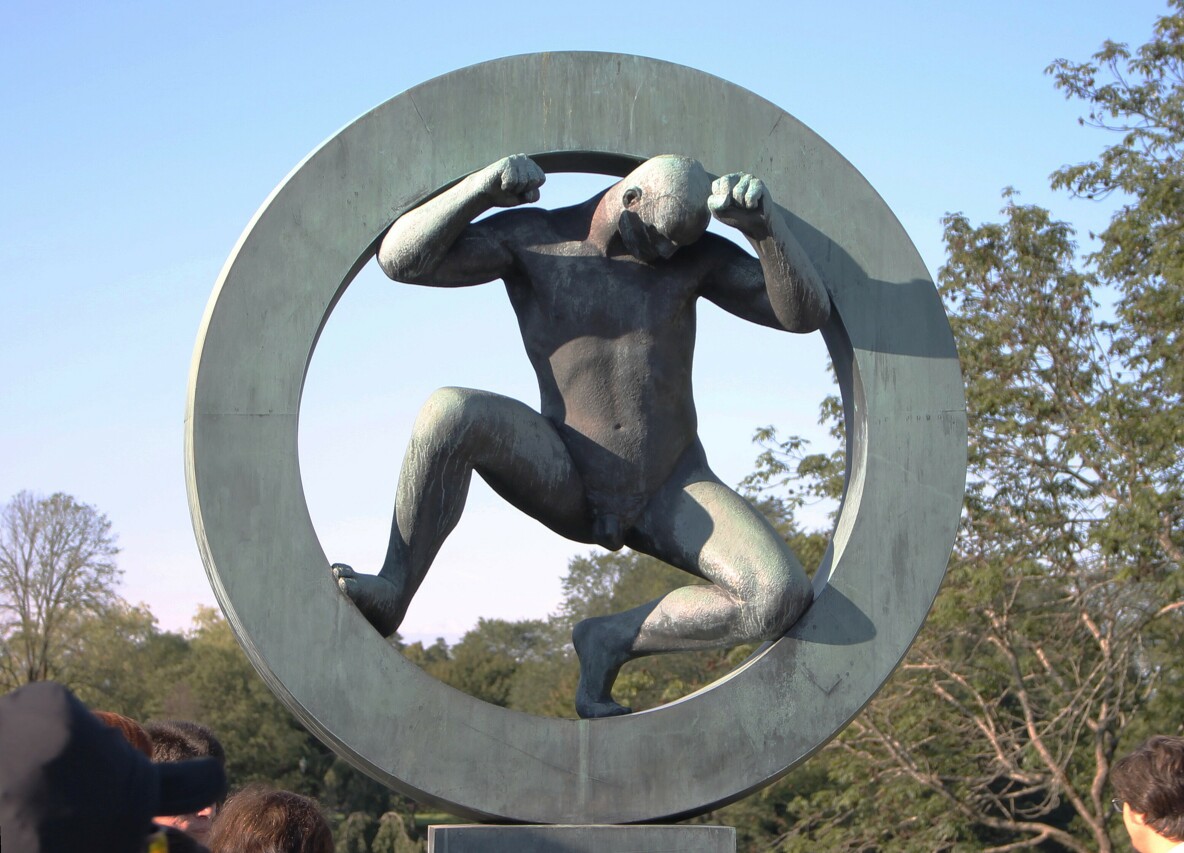 Here the wheel of fate has spun a man and a woman like a centrifuge.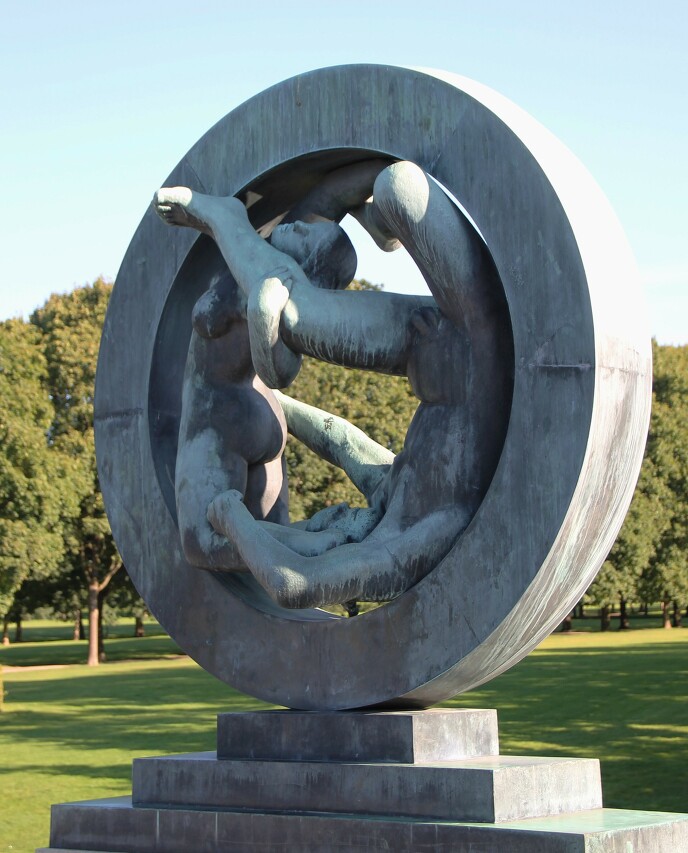 The Vigeland Fountain and the Vigeland Monolith continue the bridge's perspective, forming both an artistic and semantic chain that symbolizes a person's life path.