Barceloneta Embankment
Barcelona's main seaside boulevard stretches for 2 kilometers from the Barcelona W Hotel to the Olympic Port and is named Passeig Marítim de la Barceloneta. If you walk from the city center along the Boulevard Juan de Bourbon, you will first find yourself in the Sea Square (Plaza del Mar).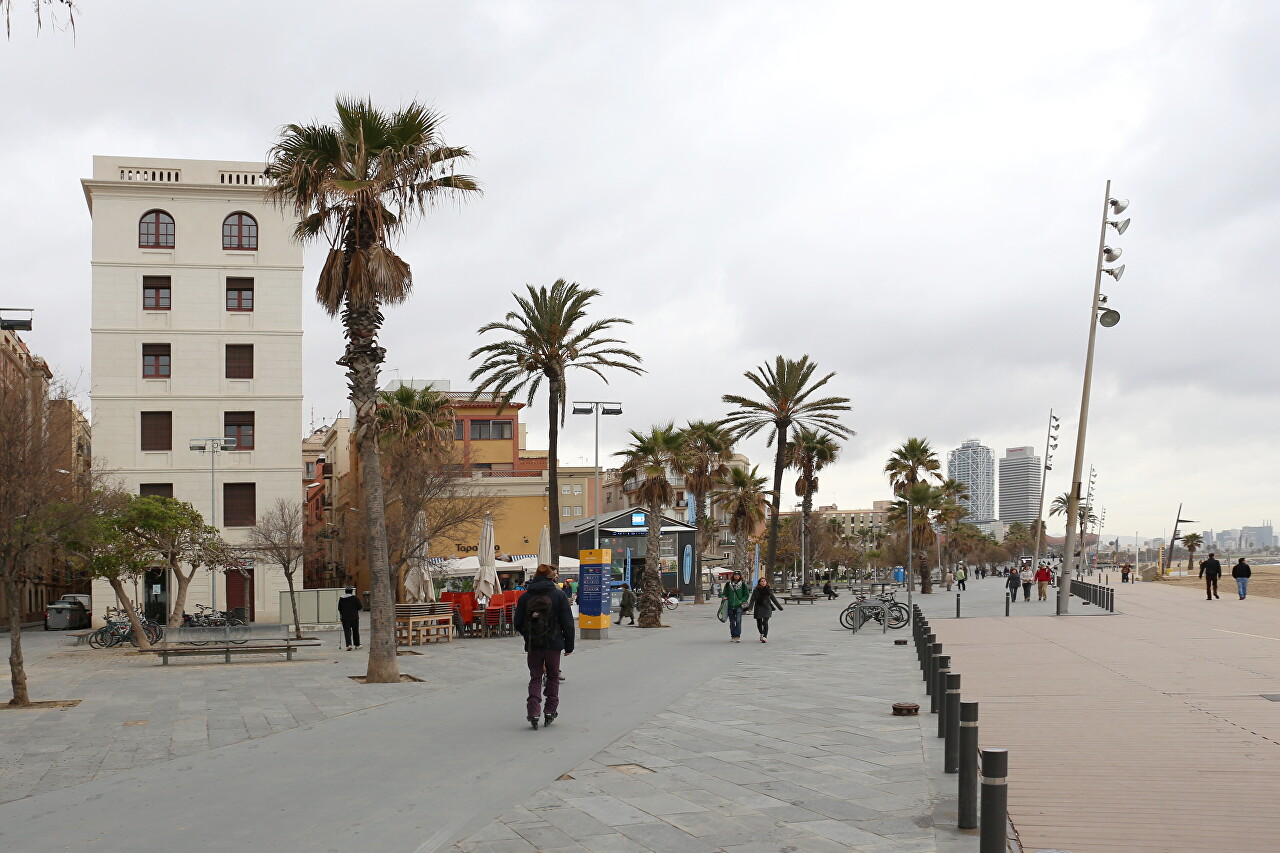 On the Plaza del Mar there is a metal structure depicting people playing ball in the sea waves. The monument appeared on the square in 2004 and is called "Monument to bathers" (Homenaje a la natación), the author of the sculpture Alfredo Lanz.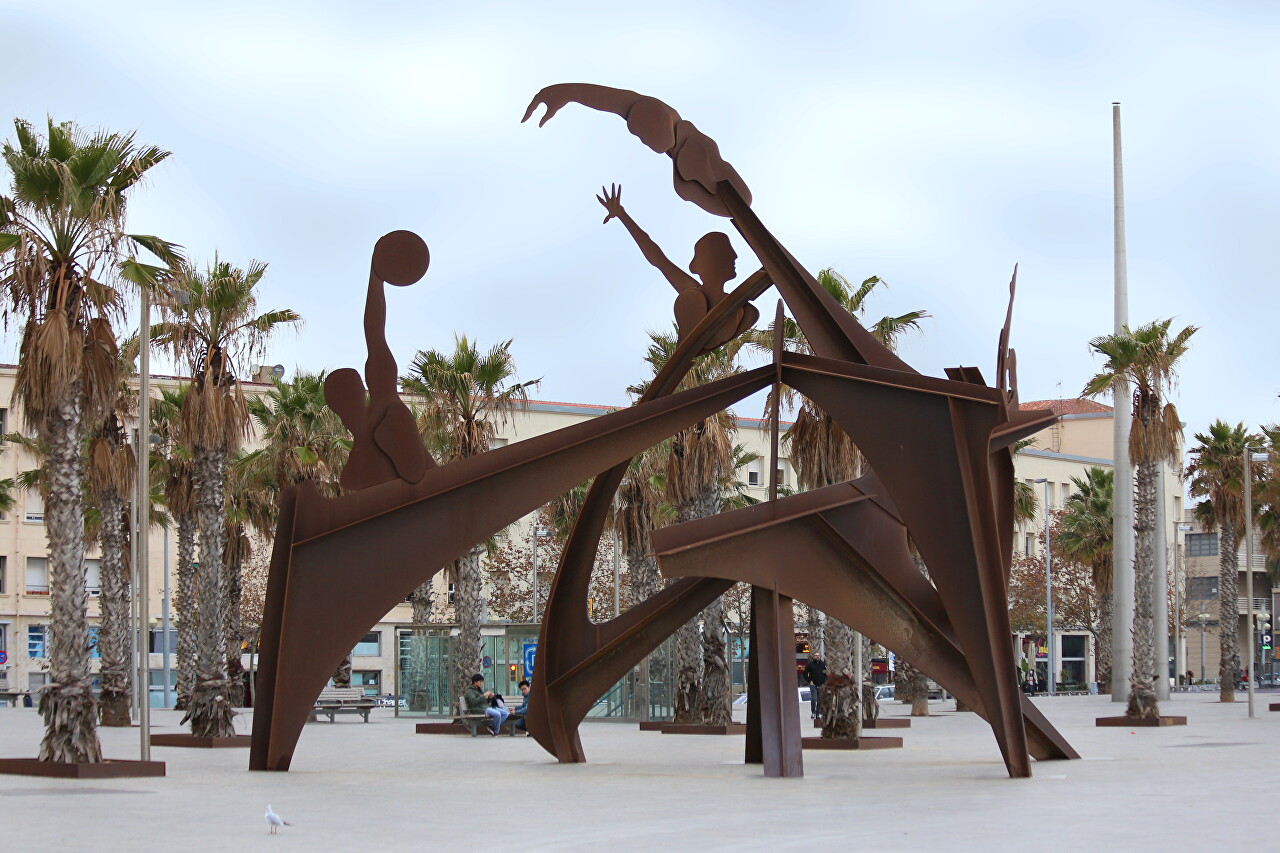 Passeig Marítim de la Barceloneta (Passeig Marítim de la Barceloneta) begins next, the pedestrian part of which runs along the neighborhoods of Barceloneta. This is the most popular of the entire boardwalk, there are many restaurants, the menu of which is made up of seafood.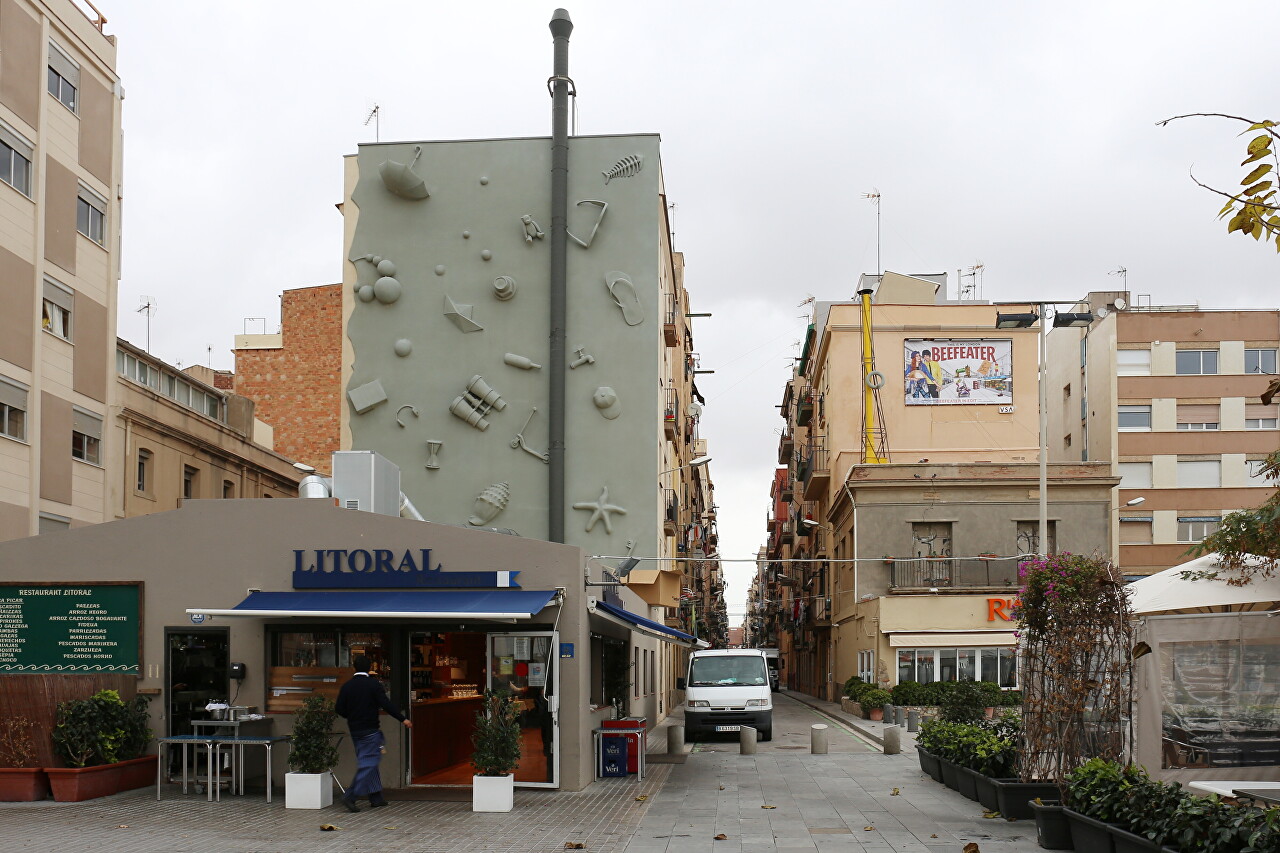 The narrow streets of the quarter, which has a rich history and unique architecture, overlook the embankment.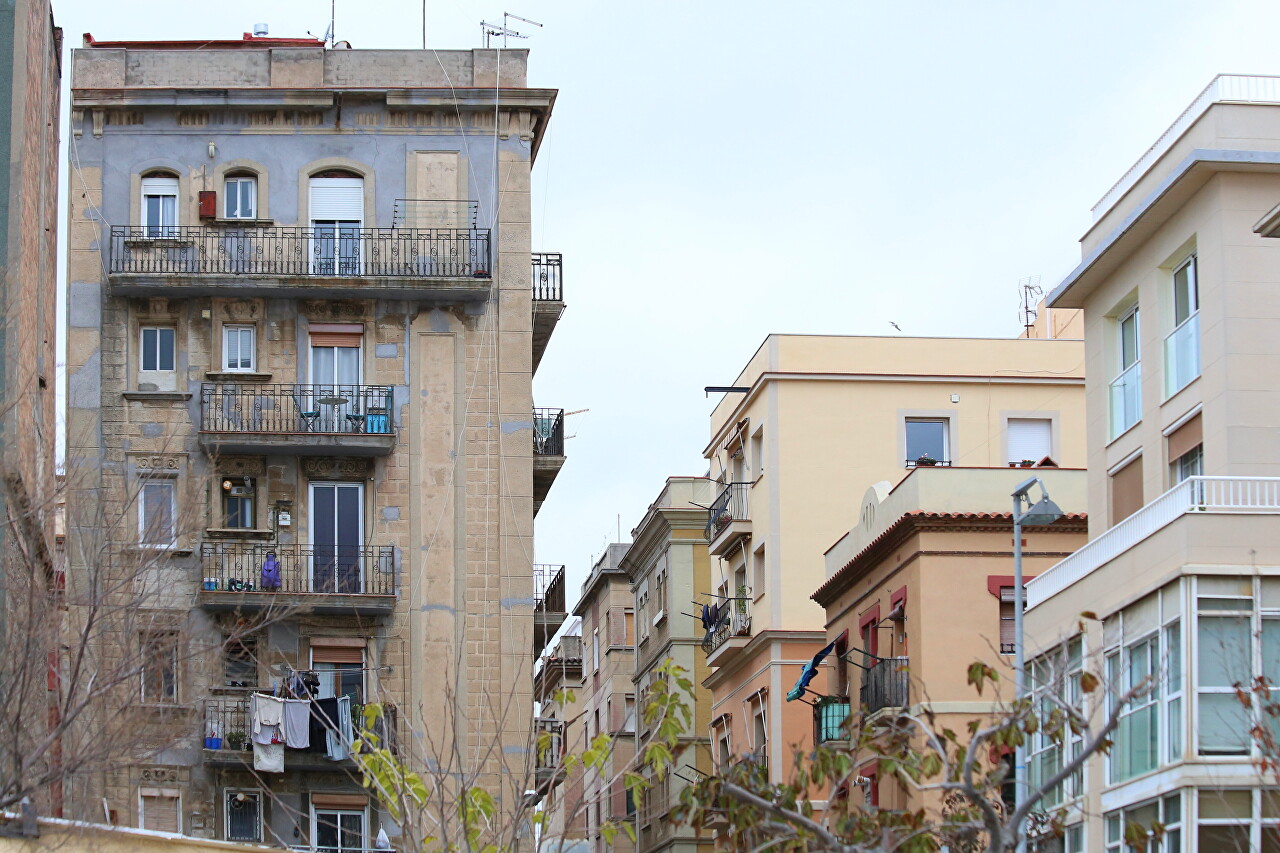 We'll take a walk around the Barceloneta quarter, but in the meantime, I noticed this bright building that stands out from the general background.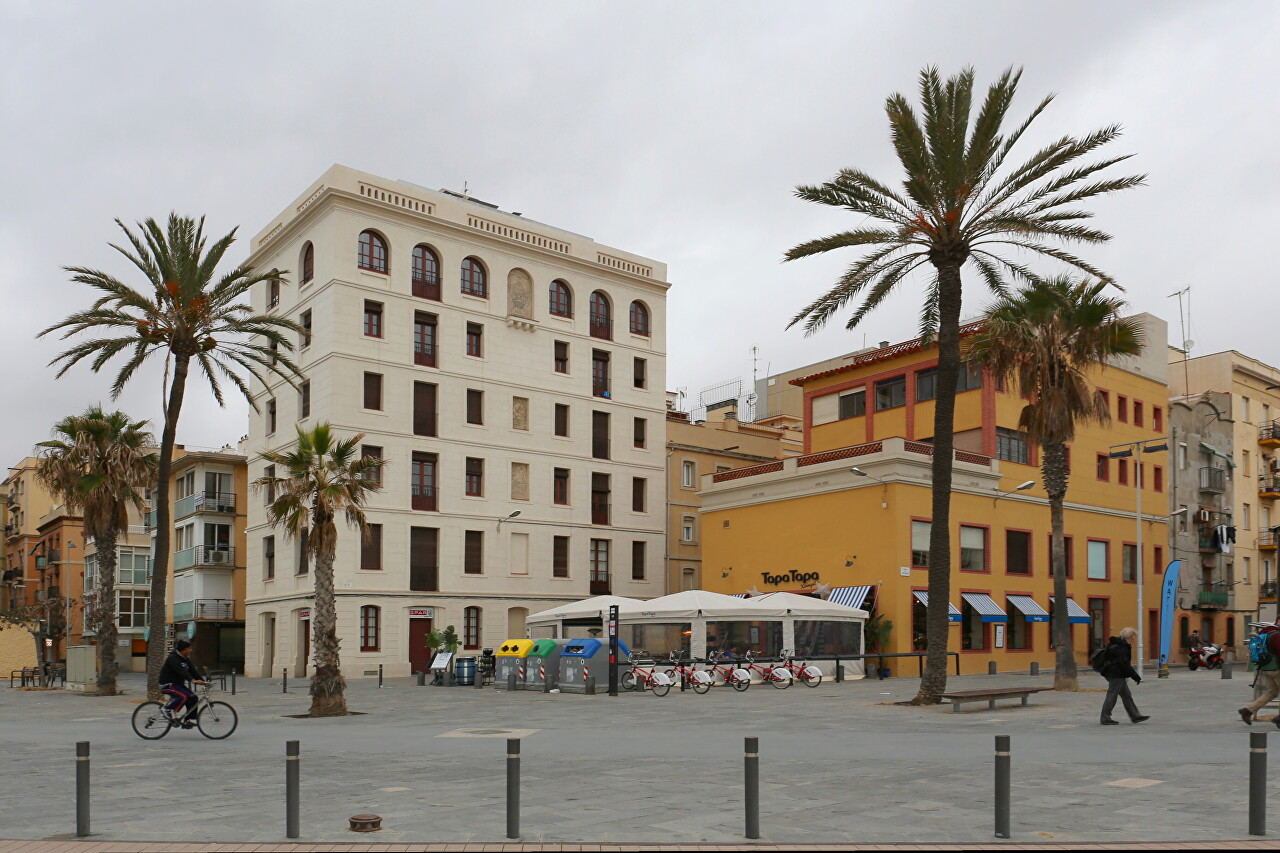 Judging by the Roman numeral MCMXXXI, the building was built in 1931.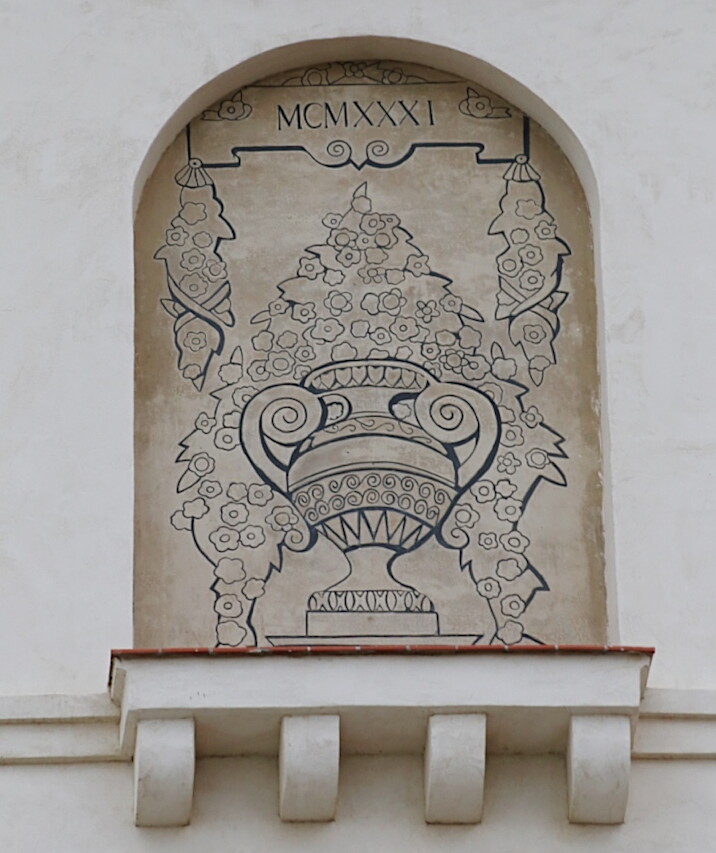 On the beach, a strange structure attracts attention - a sculpture by German avant-garde artist Rebecca Horn with the name "El liciero herido", which can be translated as"Falling Wounded Star". The monument, made of metal and plexiglass, was opened in 1992. Residents of Barcelona call this structure simply" Cubes " (los Cubos).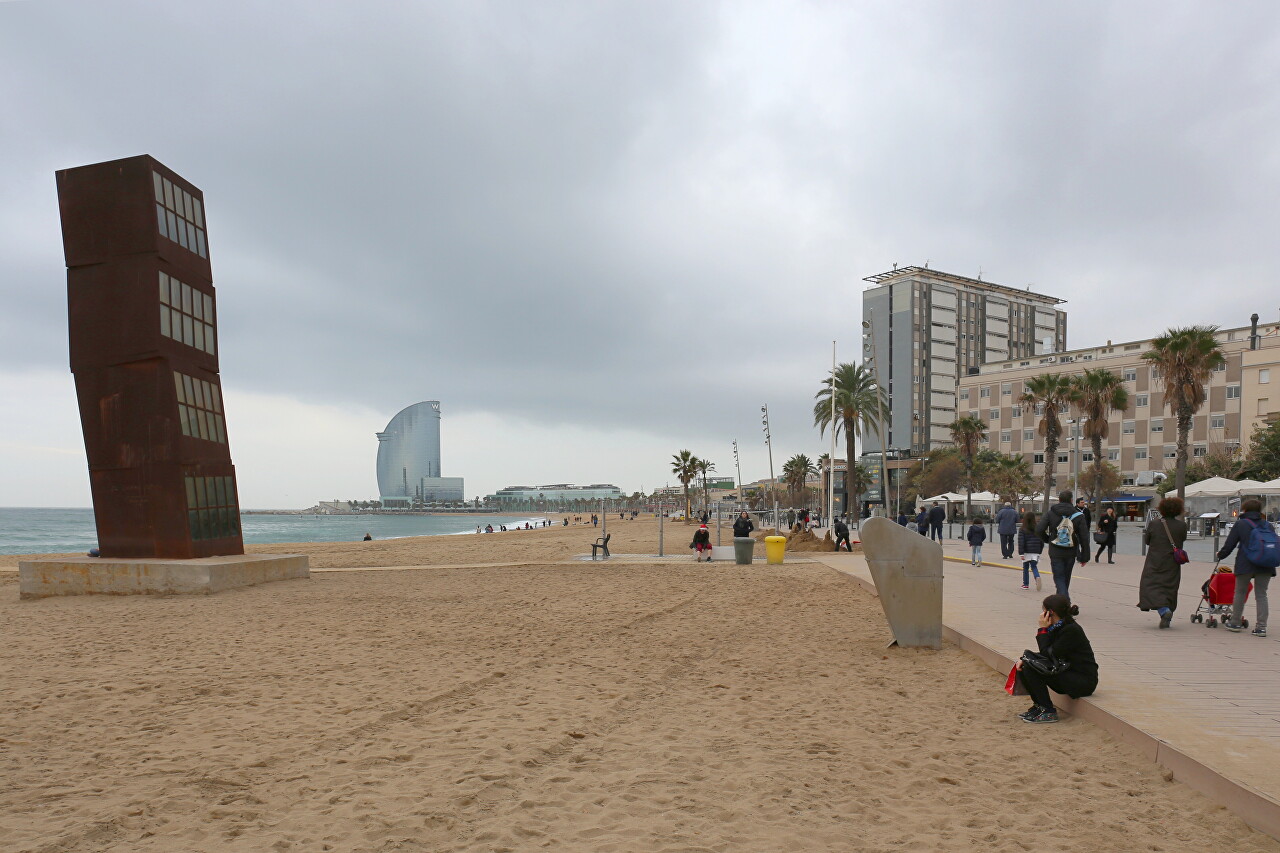 Here, in any season, you can see masterpieces of sand construction.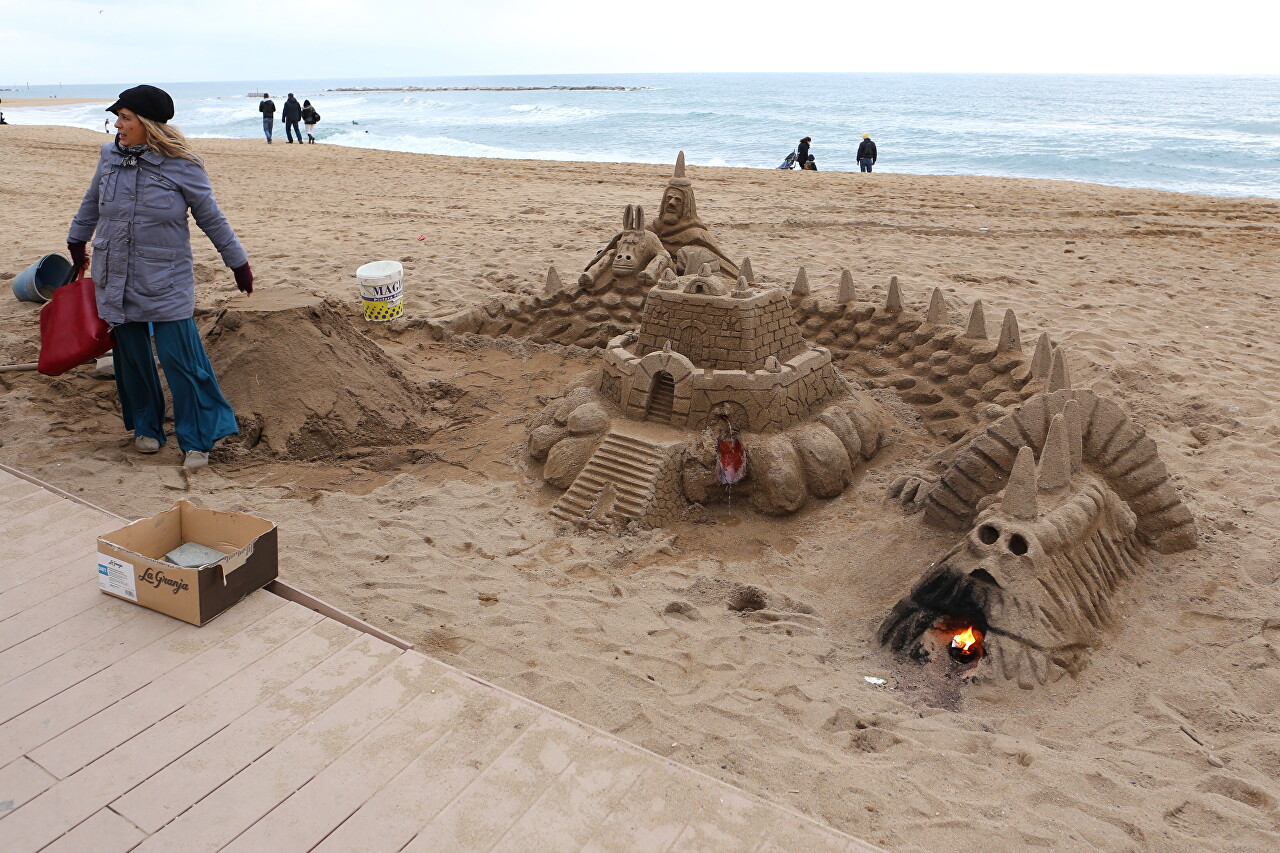 Today is Christmas Eve, and Santa Claus is climbing up many of the balconies with a bag of Christmas presents. In fact, among Catalans, the role of Santa Claus is played by the Christmas Tio (Tió de Navidad) - a log that, burning in the stove, leaves gifts behind. However, having visited Barcelona twice during the Christmas holidays, I only saw red Santa Clauses.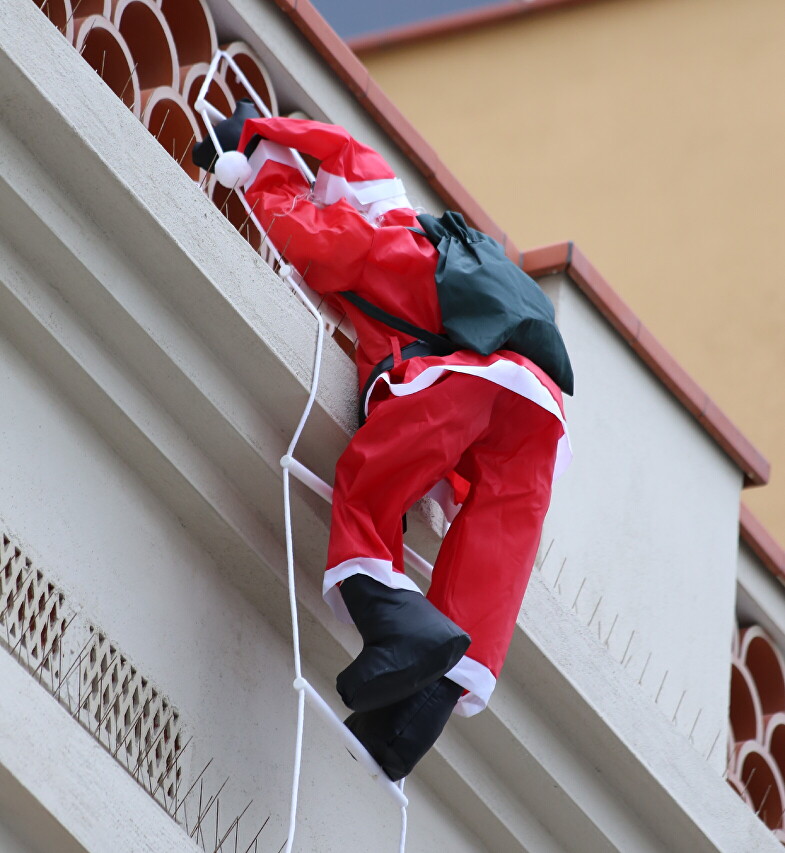 A large triangular square without a name, until 1992 there were dilapidated houses and artisanal workshops, and the neighboring streets had a poor reputation.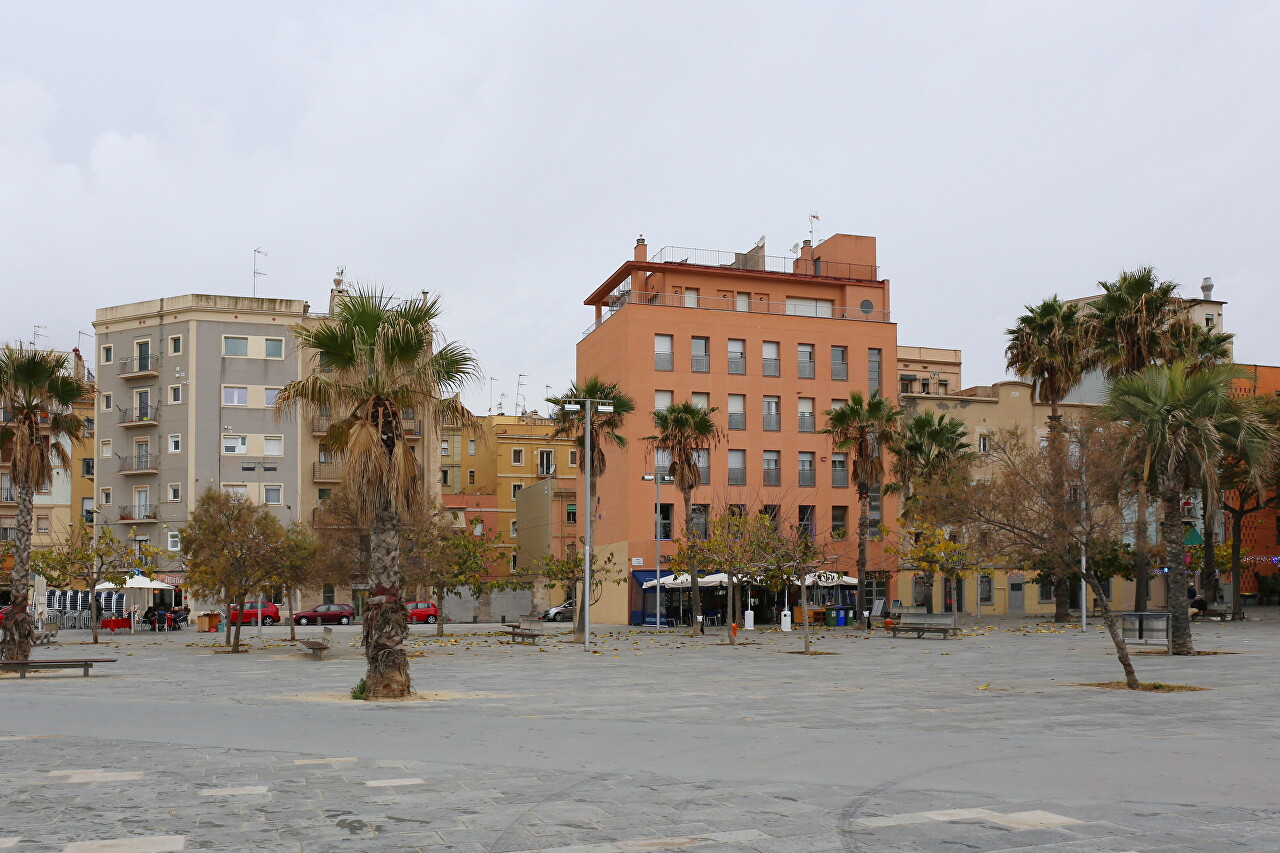 In preparation for the Olympics, in 1991-1992, the shacks were demolished and now there is a wide and beautiful pedestrian zone. In summer, a large part of the square is occupied by awnings with tables of the popular Salamanca restaurant.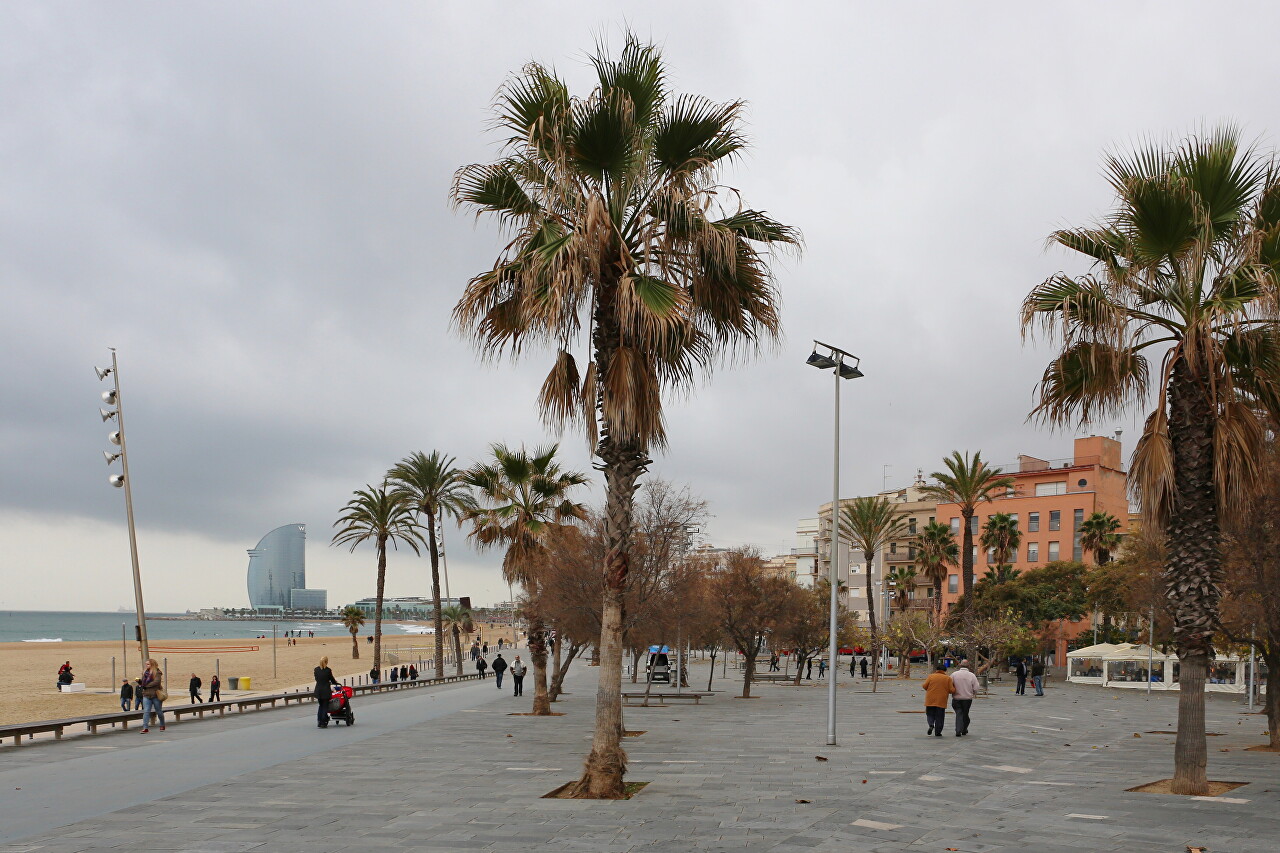 There are sports shops and bike rentals, beach equipment and surfboards on the waterfront.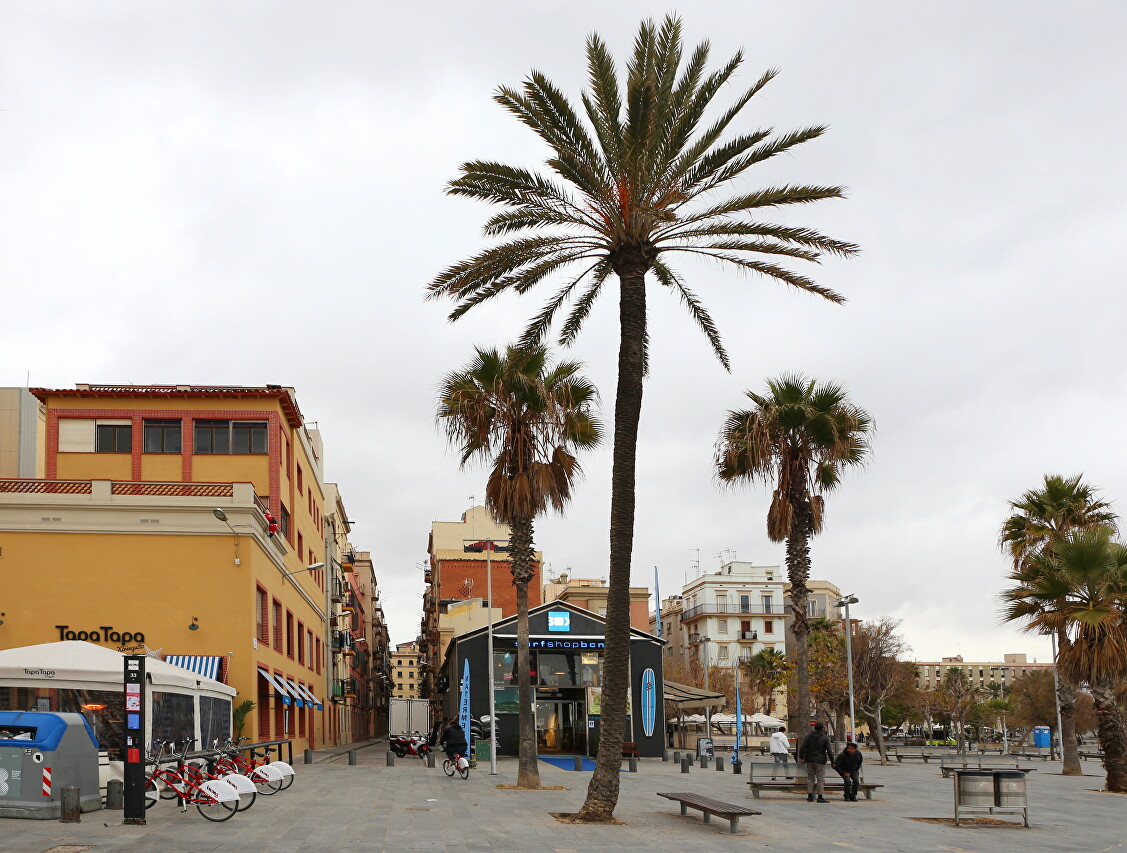 Then the boulevard leads to the Olympic Village. At its end, you can see two 44-story towers built for the Olympics-the Arts Hotel and the Torre Mapfre office building.