Church of St. Michael at Port (Iglesia San Miguel del Port)
The area of Barceloneta is a historical center of the district (on map), there is also a parish church of St. Michael, built in 1753-1755.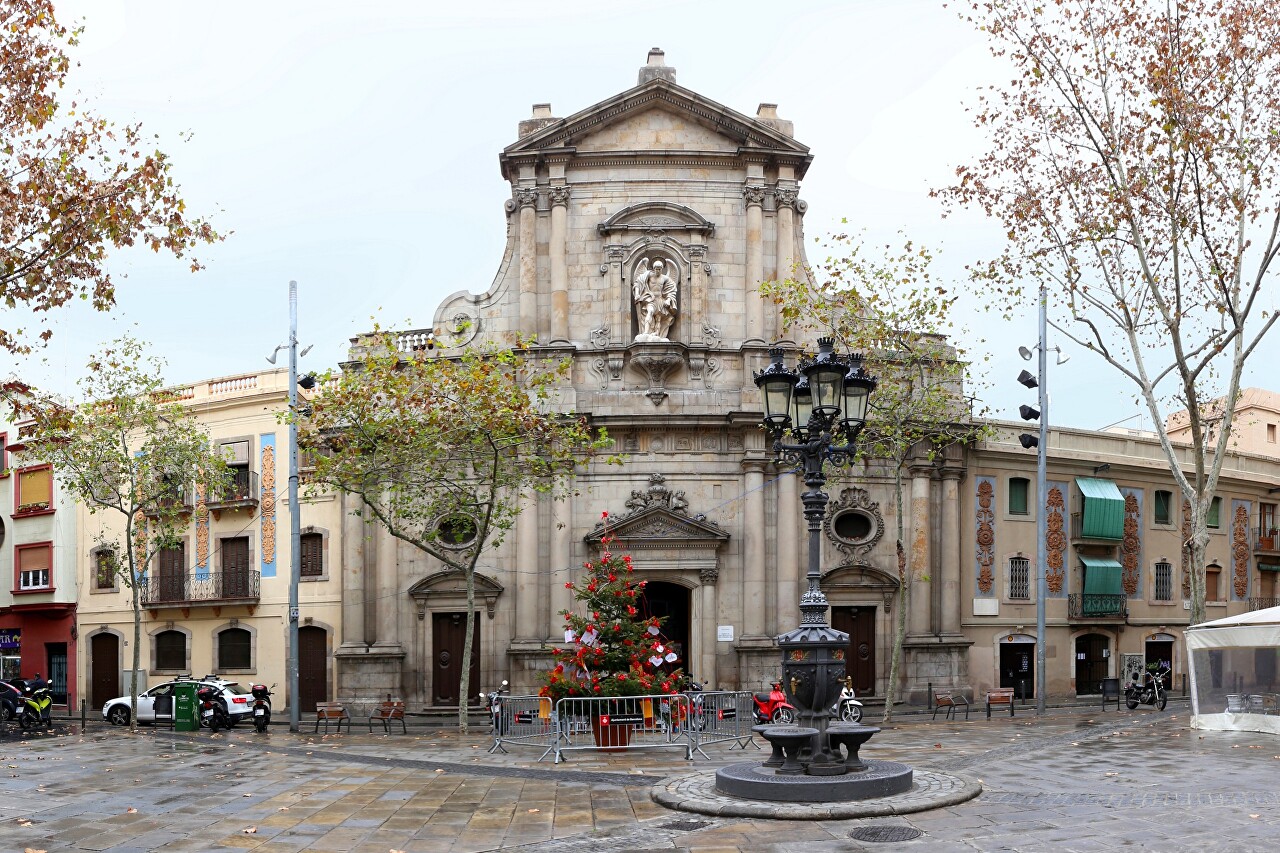 During the construction of the Citadel, it was necessary to settle the inhabitants of the Ribera district, where the fortress was being built. The peninsula that separated the port from the sea was chosen for this purpose. A large-scale project for the development of the new district was led by military engineer Juan Martín Cermeño, and he entrusted the construction of the church to his son and pupil Pedro Martín Cermeño. The initiator of the construction of the Church was the General-captain of Catalonia, the Marquis de la Mina, who allocated the territory occupied by the naval barracks for construction. The Church was named after the patron Saint of sailors and became known as San Miguel del Port, that is, (The port church of St. Michael).
The Church is built in the Baroque style and in many ways repeats the Italian school, these curls are borrowed from the church of Il Gesu in Rome.
In the center of the pediment was a sculpture of Michael the Archangel by Pere Costa, and on the sides of San Telmo and Santa Maria de Cervello, destroyed during the Civil war of 1936.
In 1992, the statue of St. Michael took its place again, a copy made by the sculptor Emily Col.
The building is square in plan, with a Central dome on four columns. In 1863, the church was rebuilt by Elias Rogent, receiving lateral the new nave and the dome.
The Baroque altar, the work of Deodat Casanovas, was partially lost during the reform of 1863, and finally destroyed during the anarchy of 1936.
The same fate befell two side altars, one dedicated to our lady of Loreto, the other to Saint Antonio of Padua.
In the church was the tomb of the Marquis De La Mina by the sculptor Joan Enrich, which also disappeared in 1936. In General, as it is sung in the "international": "We will destroy the whole world of violence to the ground, and then we will build our own, we will build a new world..."- with the first part of this plan, the fighters for people's happiness turned out very well, but with the second one it somehow did not work out.